Spanish professor says students keep him young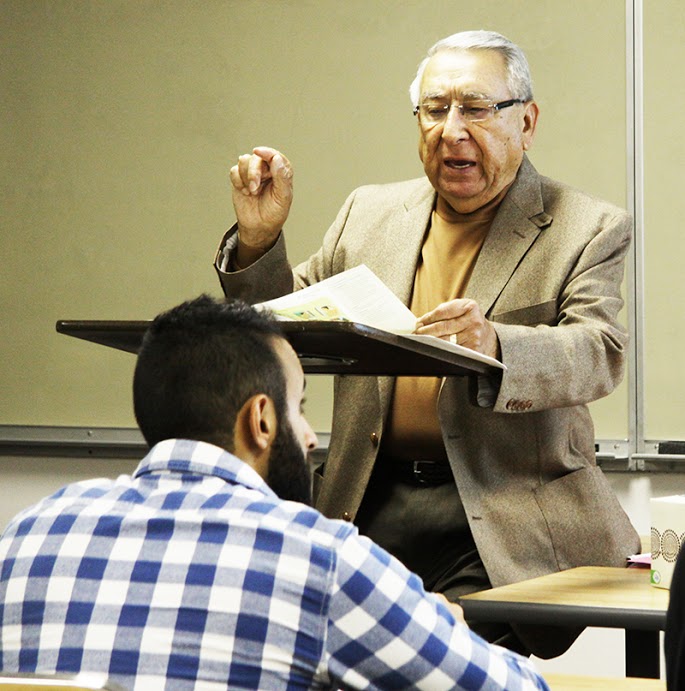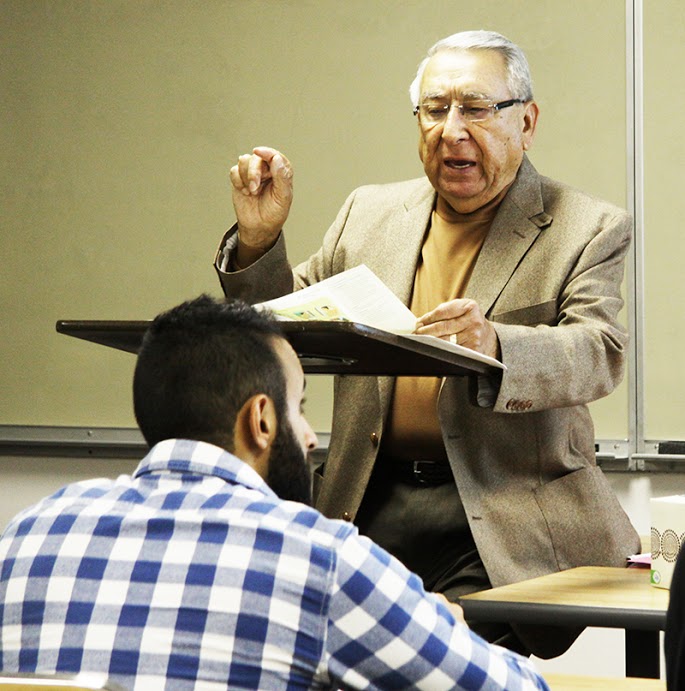 Spanish Professor Pedro Córdova is one constant that has remained since OCCC opened its doors in the fall of 1972 and he started teaching Spanish courses on campus.
"I remember when we had no walls, just partitions.
"I had a professor come up to me, asking us to bring the volume down when singing 'La Cucaracha.' I told her to join us and learn some Spanish," Córdova said.
He said he loves all of the students and faculty.
"I'm a hugging type of person," he said. "That's part of the Hispanic culture. We hug each other. We have big hearts and we give them our heart."
Córdova credits the growth of the college to students and faculty being happy and everyone coming together to learn.
"It's amazing how the college has grown. I think it's great."
Córdova's day job was as a teacher and later a principal at Mount St. Mary High School for 38 years. During that time he would also teach twice a week at OCCC.
He decided to retire when he found himself teaching the grandchildren of former students in his high school. At that point he decided it was time to only teach at OCCC.
A party was held before the fall semester began to celebrate Córdova's 40 years of teaching at OCCC. He also was nominated for outstanding adjunct faculty member this year.
The party came as a shock to Córdova but he described it as "wonderful" and said he was thankful for the celebration.
"The reason that I have stayed here so long is that I enjoy being around young people," Córdova said. "They keep me young and help me grow, and I have to stay ahead of them at all times."
He said he loves teaching and still gets excited about showing a student how to do the material.
"I get excited when students understand the material.
"For example, the grammar part — I can tell in their eyes and their faces that they understand and when they grasp it," Córdova said.
Professor Ginnett Rollins has worked with Córdova for seven years. She said she can see that his students really care for him.
"His students are kind of like groupies," Rollins said.
"They like to take him a second semester because he has his own traditional style and they feel comfortable with him.
"His students can just tell that it's very important for him to pass on the culture and language," Rollins said. "He knows how to motivate his students to do well in Spanish and apply it."
Córdova said he doesn't see much of a change in the types of students he's had in the past compared to today.
"Students have always been very courteous to me and they know that I love them and would do just about anything that I could do to help them along," he said.
"The respect has been there since I started to now."
Student Sarah Hanson said Córdova mixes Hispanic culture and history in his class, and really cares about his students.
"You can tell that this is not just a job to him," she said. "This is his life and he loves it. He loves his students and he's here for us. He's not in it for the pay or anything other than to help us succeed."
Córdova said one of the main things he emphasizes is keeping his class light.
He tries to bring humor to his class through his personality, singing songs and having a party or two in his class.
"We learn by laughing at ourselves," he said.
"You have to have a sense of humor after you pronounce some of those words. We never laugh at you but we do laugh at ourselves."
He has seen an increase in the number of students he has in each class.
"Years ago I used to take my students to my home, and my wife and I would show them how to make tamales," Córdova said. "We can't do that any more because of the size of my classes."
Student Marcus Daniels said the professor mixes humor in his class but also is about getting business done at the same time.
"He's very concerned about us learning," Daniels said. "He brings the [material] to life for me."
Córdova will teach Spanish II again this spring. For days and times, visit www.occc.edu/schedule.