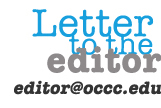 To the Editor:
I am writing in frustration to the frugal Valentine's Day dining options as published in an article by Mary McAtee in your publication last week.
Since OCCC is located in south Oklahoma City, I hoped to maybe hear about some new restaurants located in this area, or maybe some old favorites.
But instead, Ms. McAtee elected to talk about the same preppy, hipster, northside crap that's shoved down our throats on a daily basis. I was disappointed, to say the least.
South OKC has a plethora of great restaurants to offer, whether the occasion is Valentine's Day or just a regular outing with friends and co-workers. Off the top of my head, there's Panang located at SW 89 and Penn, where you can get the best Thai food this side of the globe.
There's plenty of ethnic restaurants to go around, too, like Ted's (Mexican) on South Western and Carino's (Italian) on South Walker. And if you're just looking for a good ol' burger, you can't beat Johnnie's off I-240 or Earl's off I-35 in Moore. It's time to stop giving north OKC all the credit and making this side of town look like the slums.
—Name Withheld by Request