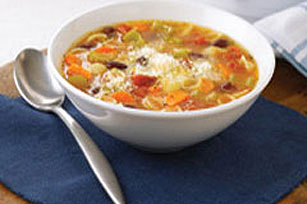 The tempting aroma of homemade soup permeated the atmosphere in the Main building Nov. 7 as the Faculty Association hosted the third annual Soup Sale and Silent Auction for student scholarships. After the soup was eaten and the auction items sold, the Faculty Association had added $1258.16 to its coffers, said Michael Machiorlatti, Scholarship Committee Chairman.
More than 150 bowls were sold, said Machiorlatti.
The silent auction sold 20 items, including a set of blue-and-white porcelain china made by Sorelle and a framed picture of Starry Night by Vincent Van Gogh. The top auction item, which was the china, sold for $90. As in the last two Faculty Association sales, the soups were judged to determine the best.
Physics Professor Tad Thurston won the soup contest with his creole crab chowder.
This year, buyers paid extra to judge the competitors. If buyers paid $5 for a bowl of soup, they had the opportunity to try all seven soups and vote for their favorite, said Machiorlatti.
The seven soups consisted of: creole crab chowder, vegetable sausage, cabbage soup, beef and barley, lentil, creamy chicken, and a chili.
"All of them were really good," said Scholarship Committee Chairman Michael Machiorlatti, professor of business and economics.
This is Thurston's third time in the winner's circle. In previous years, he won for best chili, said history professor, Jeff Carlisle, Thurston will receive a gift card to the movies as well as the champion soup chef title for the third annual Soup Sale and Silent Auction.
The sale had a successful turnout and received positive feedback, Machiorlatti "I think it's great that they created a fundraiser to help fund student scholarships." said public relations major Felicia Brown.
"This sale is fun for the Faculty Association, and beneficial for students," Thurston said.
The proceeds go to Faculty Association scholarships, where the students are recommended by their professors, said Faculty Association member Jeff Carlisle, history professor. To apply for the scholarship, students must have a faculty sponsor to send their name forward.
"The results will be determined in the coming weeks as the committee gathers and reviews applications; the applications are going out this week," Machiorlatti said. "We will possibly be able to award 10 to 12 applicants with scholarships."
Those who missed out on the soup should stay tuned for the spring of 2013 Chili Cook-Off and Hot Dog Sale also sponsored by the Faculty Association's Scholarship Committee.