Soup contest, bake sale, silent auction on calendar Nov. 11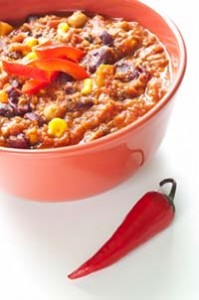 For $3 customers can enjoy a bowl of homemade soup and a dessert for lunch Wednesday, Nov. 11, while helping fund scholarships for OCCC students.
This event will be located in front of the Communications Lab on the first floor of the Main Building.
Librarian Tricia Sweany said the Faculty Association will be serving soup from 11 a.m. until they sell out, as part of its annual Soup and Bake Sale and Silent Auction.
"We have eight or nine soups entered in the contest," said Sweany, event co-chair.
News Writing Instructional Assistant Ronna Austin said this is her second time entering the soup contest. She plans to add variety to the offerings by addressing the dietary needs of those vegetarians who also forego dairy products.
"I just became a vegan a year and a half ago, and I'm pretty excited about entering a vegan soup," Austin said. She will be making a Vegan Massaman Curry.
"And I am not holding back. My soup will be spicy," Austin said.
Physics Professor Tad Thurston seems to be the cook to beat at the soup contest. Thurston won the Faculty Association's chili cook-off earlier this spring.
Thurston has more than a handful of wins under his belt.
"But who's counting?" Thurston asked.
What is the secret to Thurston's contest-winning recipe?
"The original soup was actually something brought by friends to a Halloween party as a sort of dip for breadsticks," said Thurston in an e-mail interview. "I found out later that it was first a soup recipe from a family-owned Louisiana restaurant."
Over time Thurston has modified the recipe to include readily available ingredients.
The Faculty Association usually raises more than $1,000 during the soup sale and silent auction each fall, said librarian and event co-chair Ann Raia.
"Typically, we award anywhere from five to eight scholarships to students with the funds from the soup sale and silent auction," she said. "The number of scholarships we award each semester varies depending on the funds raised."
Sweany said they will have a credit card machine for those who don't have cash. The Silent Auction and Bake Sale begins at 9 a.m. and ends at 3 p.m.
Sweany said the faculty have donated some good items.
"We have an iPad mini, a Sooner box filled with different OU gear, jewelry, and more really good items up for bid in the auction," she said.
Items begin as low as $10 and go up from there, she said. This is a great opportunity to get started on some Christmas shopping for friends and family, or to buy an early gift for yourself.
High bidders do not need to be present to win.
Students who want to help the cause may donate baked goods, Sweany said.
Contact co-chairs Tricia Sweany prior to the sale at 405-682-1611, ext. 7416, or Ann Raia at 405-682-1611, ext. 7468, if you'd like to donate to support the Faculty Association scholarship fund.
Scholarships will be awarded to students in December.