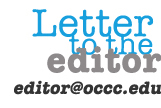 To the Editor:
From all across the state artists, musicians, creators, authors and filmmakers will gather at the Sheraton Hotel in downtown Oklahoma City June 3, 4 and 5 for SoonerCon 20.
Under the theme of "Heroes & Villains," guests include acclaimed genre author Tim Powers, legendary local horror host John "Count Gregore" Ferguson, native Oklahoman and star of SyFy's SFX series "Face Off" Tate Steinsiek and award-winning illustrator Darrell K. Sweet along with dozens of fan communities and clubs from around Oklahoma.
Although much of SoonerCon celebrates pop culture, it's actually built upon a foundation of community engagement.
SoonerCon raises money for Infant Crisis Services, offers armed services members free admission on opening day, provides a platform for promotion of local artists and creators and contributes over $500,000 to the OKC metro area economy.
"SoonerCon is and always has been the result of thousands of volunteer hours throughout the year," said SoonerCon Chairman Jerry Wall.
"It's a real labor of love — we all have day jobs, families, hobbies, responsibilities — but it's an amazing way to enrich the community."
Growth is key for SoonerCon's future, and with the mainstream popularity of brands like Batman, Iron Man and Star Trek, it is more and more true that it is hip to be square (though decidedly un-hip to reference Huey Lewis and the News).
Strategies like content-rich social media campaigns and online ticket sales have contributed to SoonerCon's growth, but Executive Director Leonard Bishop says there's something a little more mysterious to it.
"SoonerCon will keep growing because there's a vivacity and diversity to what we can offer," said Bishop.
"There's no experience like SoonerCon anywhere in Oklahoma; each year is a one-of-a-kind opportunity, whether you're a regular or a first-timer.
What more could possibly be worth the price of admission?"
SoonerCon 20 is Oklahoma City's multi-genre, three-day annual convention featuring authors, comic creators, artists, performers, celebrities and musicians from Oklahoma and abroad, celebrating its 25th anniversary in 2011.
For more information, visit www.soonercon.com.
To purchase tickets, visit http://soonercon20.eventbrite.com.
To like us on Facebook, visit http://www.facebook.com/soonerconscifiexpo.