Smokers warned policy will be enforced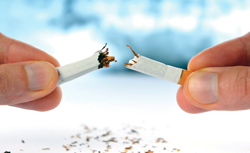 In 10 short days — Aug. 1 — OCCC will become a tobacco-free environment, making it the 17th Oklahoma college or university to become such.
According to the OCCC website, the purpose of this policy is "to promote the health, well-being, and safety of all students, faculty, staff, and visitors … Smoking or the use of any tobacco products is prohibited on OCCC property."
Police Chief James Fitzpatrick said his office will enforce the policy which also includes electronic cigarettes.
"No one, not even the FDA has come out and said [an e-cigarette] is a smoking cessation or substitute.
"Until somebody comes out and tells us a little bit more about what they are, there's no point allowing them to be used all over the campus," he said.
"It could be more dangerous than what the cigarette smoke does."
Fitzpatrick said there will be no leeway.
"We realize that this is a change for everybody and our enforcement action is going to be appropriate for the fact that it is a significant change, but we're not going to ignore the violations."
He said those who ignore the new rule will be dealt with on a case-to-case basis.
"Anyone that's in violation is going to be talked to."
Many things will be taken into consideration when the security and safety officers interact with someone in violation, he said.
"Everything that we do will be directed at gaining compliance to this policy.
"We take our responsibilities seriously."
Learning Support Specialist Mary Turner is part of the Tobacco Task Force on campus.
"I do encourage individuals who want to quit to contact 1-800-QUITNOW, get smoking cessation products, get a stop coach, all of those kinds of things," Turner said.
She said OCCC's goal in going tobacco-free is to support the community in becoming cleaner, which "will benefit many."
Lucas Seymour, a newly enrolled student, said she will be fine with the new policy.
"I feel that if someone needs to smoke that bad then they just need to stop smoking."