Skyline Cocktails: The Broke Brothers at the Museum of Art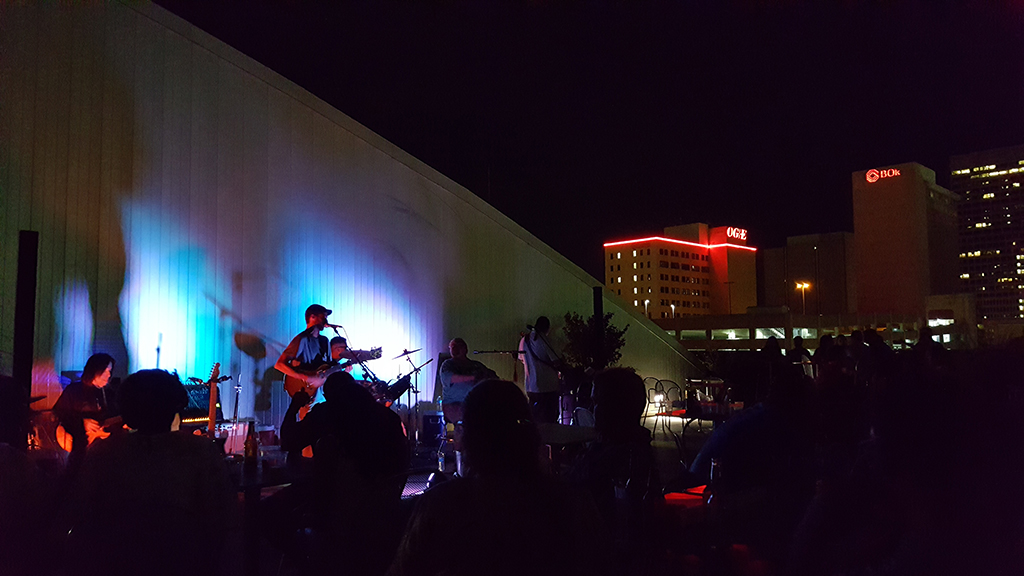 The Oklahoma City Museum of Art hosted their weekly "Cocktails On the Skyline" event Thursday with a night of drinks, conversation, and music.
This week the museum rooftop had The Broke Brothers played a three hour set to a filled crowd and a great view. The Broke Brothers are a local reggae band that have been in the scene playing covers and original material for crowds all across the state.
Lead vocalist John Green said he works to keep the sound as authentic as possible through his band's composition and style. He said the band is a regular at the Skyline events.
"We got this gig through our booking agent. It's been four years since we started playing here and it's been great," Green said.
The crowd sang renditions of well-known songs like  "No Woman No Cry," and couples danced throughout the night.
Music lovers like Lori Williams and Faith Thomason, who were new to the event, said they had no idea what to expect. Each said they were very impressed with the band.
"They're awesome! It's that ability to articulate that makes the guy so good," Williams said. "The crowd is lively and really diverse"
Thomason said she attended the event to expand her horizons and meet new people. She said the music seemed like the cherry on top.
The sun set as people moved and socialized through the venue. Once the night set in, the crowd focused on the band and the view.
Musician Aaron Dilley sat and enjoyed his drink with a few of his friends as he bobbed his head to the beat of the band.
"I love the sounds and the atmosphere," Dilley said.
For more than ten years, the Oklahoma City Museum Museum of Art's "Art After 5" has been bringing the community together for late night art and tunes. With a cover of $5 to enjoy the exhibits and local bands every week, it's hard to say no to having a night of music and fun in the heart of Downtown.
Oklahoma City Museum of Art is located on 415 Couch Drive in Downtown Oklahoma City and their "Art After 5" is held every Thursday.