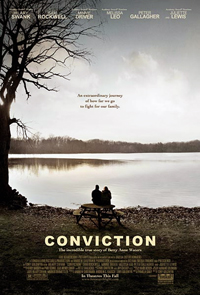 Recently appearing in box offices, "Conviction" provides a entertaining story with a historical base with the potential to win an Academy Award.
Writer Pamela Gray's and Director Tony Goldwyn's film opened Oct. 15.
While "Jackass 3-D" will more than likely claim the title of number one in the box office, this film should not fall under the shadow of grown men who are paid to act like children.
"Conviction" is based on the true story of Betty-Ann (Hilary Swank) and Kenneth Waters (Sam Rockwell), siblings who struggle from childhood to live a "normal" life.
Some of the opening scenes depict a sister and brother's hardships within their family.
Even as they grow older, their support of one another continues.
After Kenneth is wrongfully convicted and sentenced to life without parole, the plot escalates into a swift story brimming with suspense.
Swank, a two-time Oscar winner, delivered a crisp and authentic performance.
The factual storyline and dialogue of the original Mrs. Waters made it an easy task. Swank's talent unearthed her versatility as an actress, possibly even more than her past film, "Boys Don't Cry."
Rockwell's performance seemed effortless in comparison to past films like "The Hitchhiker's Guide to the Galaxy."
In the theater it became easy to be oblivious that the images before the audience were not indeed reality.
For a brief instant, someone not attached in any way to the authentic event seemed invested in it.
The factual content of this film is justifiably the most impressive of all.
Simply stating historical evidence, the movie enlightens society today about what the crude justice system consisted of before DNA testing.
Since it's based on a historical case, "Conviction" is predictable.
The trailers shown on television relay a summary of the message, but without the intensity and grandeur the film portrays.
"Conviction" has a running time of approximately an hour and 45 minutes with an R-rating for its use of profanity and violent content.
However, this should not discourage people from seeing the film.
"Conviction" portrays hope in such a way that it will leave a mark on the brain and a tingling in every toe as if a streaming star floats past the horizon.
Rating: A