Shortey Indicted by Federal Grand Jury
The state senator forced to resign after he was found at a Moore motel with an underage teenage boy was indicted by a federal grand jury last week for child pornography and child sex trafficking.
In March, former State Senator Ralph Shortey, R-Oklahoma, was arrested after he checked into a Super 8 Motel with a seventeen year old minor.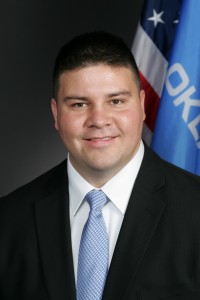 Police say Shortey used a private AOL account with a false name to send sexual-related text messages and shared a video which depicts a man engaging in sexually explicit conduct with a prepubescent girl.
Shortey, law enforcement officials said, used screen name Brian Tilley. He also created a fake Facebook account with a false name to upload photos and sent texts on a social media app known as Kik. Shotey also created a Craigslist ad where he met the minor known as John Doe.
On his own personal phone, court documents said Shortey used his own email account where he emailed a video titled "051st Time Sex Videos."
In the spring, Shortey was charged with engaging in child prostitution, engaging in prostitution within 1,000 feet of a church, and transporting a minor for prostitution/lewdness.
Shortey resigned from his Oklahoma Senate District 44 seat days after he was charged.
Shortey said he submitted his resignation to Senate President Pro Tempore  Mike Schultz, R-Altus, and Republican Governor Mary Fallin.
"I thank the constituents of Senate District 44 for the opportunity they provided to serve." Shortey said in a public statement, released by his attorney. "Because I take that responsibility seriously, I recognize that the charges against me are a distraction to their interests and the remaining legislative session, which should serve all Oklahomans."
Shortey said his resignation is evidence of his respect for public service and the duties of elected officials. He asked for the privacy of his family – his wife and four daughters – as he defends himself against these charges.
Shortey pleaded not guilty.
Shortey could face years of prison time if convicted of the charges.  In addition, the former senator will face up to $250,000 per count in fines and mandatory restitution.