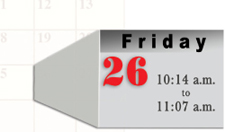 Some cowered under desks, while others stood outside in what could have been a deadly firing range.
Wherever you were on the morning of Feb. 26, 2010, the date remains an infamous one to countless OCCC students, faculty and staff members.
On that day, a series of communication errors sparked a chain of events that put OCCC on lockdown and would forever alter the college's safety procedures.
After OCCC received word of a potential campus threat via a general nationwide alert, news of the alleged danger was spread to select employees — including Jessica Martinez-Brooks, Community Outreach and Education director.
Martinez-Brooks in turn relayed the information to fellow college workers, including a library work-study employee identified in Safety and Security reports as Mary Teter.
As Teter began to alert fellow staff and faculty of the possible threat, mathematics Professor Ernest Gobert misunderstood her use of the term "active shooter" and placed a call to the Safety and Security office.
In the phone call, Gobert said there was a man with a gun in room 402 of the Keith Leftwich Memorial Library.
As Safety and Security officers were dispatched to the Library, then-Safety and Security Director Ike Sloas attempted to send out an intruder alert through the college's IP phone system.
Because Sloas did not properly activate the alarm, the alert was not sent out.
Initially believing there was a mechanical error, he sent a second alert. This time, at about 10:14 a.m., a fire alarm was incorrectly issued to the Main Building.
While shelter-in-place procedures had already been put into motion in the Library, occupants of the Main Building filed outside in response to what they believed to be a fire — placing many of them directly under the library's windows.
"My friend and I were standing outside the library for about five minutes," said Jorie Hemphill, accounting major, after the incident.
"There were probably a couple hundred of us out there. We noticed there was something going on (in the library), but we didn't know what."
At 10:26 a.m., an all-clear message was sent out to the Main Building, as well as other divisions of the main OCCC campus.
Although the Library remained on lockdown, campus security officers ushered those who had filed outside in response to the fire alert back inside.
However, the terror wasn't over yet.
At 10:35 a.m., a shot was fired on the fourth floor of the Library toward the Main Building, sending a wave of panicked people running through the hallways.
It was later learned that Campus Safety and Security Coordinator Keith Bourque accidentally fired the gunshot as he and other officers performed a sweep of the area.
For the next 30 minutes, OCCC remained in a state of lockdown. Dozens of students and college employees hid in the Safety and Security office, while others searched for safety in other areas of campus.
Finally, at 11:07 a.m., all campus buildings were given the all clear.
College officials reported there was never an armed intruder on campus.
OCCC was closed down for the remainder of the day, and all students, faculty and staff members were instructed to vacate all buildings.
"Our teacher advised us to walk out to our cars in groups," Hemphill later said.
"They still didn't know what was going on or if it was safe."
Now, a year later, President Paul Sechrist said in an e-mail interview that numerous changes and additions have been made to OCCC's safety procedures.
Among the changes: a police force, complete with sworn armed officers, will supplement OCCC's Safety and Security officers.
Although the change was not prompted by the shooting incident, Sechrist said, it helped speed the process along.
"The plan to move to a police department … was already in the works prior to the incident last year," he said. "But it did emphasize the need and urgency to move in this direction."
Sechrist said other improvements include enhanced communication systems, increased training for security officer staff, and the hiring of Police Chief James Fitzpatrick.
In addition, Sechrist said, OCCC is now compliant with the requirements of the National Incident Management System, which mainly focuses on the training of a wide range of employees.
On March 26, 2010, one month after the incident occurred, Sechrist introduced a task force comprised of 26 faculty and staff members and six students.
For the next two months, the task force met every Friday to determine the best methods to communicate with faculty, staff, students and visitors on campus before, during and after an emergency.
Their findings were presented to Sechrist on May 7. Top recommendations included:
• Thorough college emergency procedure training of evening and weekend staff members
• The installation of software to give students, faculty and staff the option to choose how to receive emergency alerts.
• An emergency-situation section added to class syllabuses
• Periodic equipment checks to find phones that are not working properly.
Today, Sechrist said, all four of those suggestions are actively practiced on campus.
"OCCC was a safe campus before and remains a safe campus," he said.
"With the recommendations now in place throughout the college, we are better prepared for an emergency incident, can better respond to an incident, and can communicate more effectively with students, faculty, and staff during and following an incident."
In the end, Sechrist said, he believes the shooter incident had an ultimately positive impact on OCCC.
"OCCC used the incident to make positive changes," he said. "There was not a shooter on campus last spring and even with the mistakes that took place following the false reports of a shooter, thankfully no one was hurt.
"We did take the incident seriously, and used the incident to learn and become better."
To read the initial reports that followed the incident, visit the Pioneer Online archives at www.occc.edu/pioneer and select the following dates: March 5, 2010, March 12, 2010, May 7. 2010.