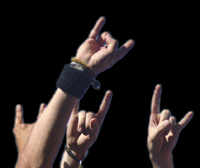 During winter break this semester, many bands rocked Oklahoma City and surrounding areas, one Oklahoma City Community College student headbanged in support of local charity.
Tyler Comes, 21, sophomore at O trip, supplies his heavy vocals to Severed By Sin, a native Oklahoma band. Along with Tyler's vocals, Chris Poor plays guitar, Andrew "Pablo" slaps the bass, while Ben Hill dominates drums.
The last show performed by the crew was Dec. 12 at the Conservatory, 8911 N. Western in OKC. This performance was special being the "2nd Annual Metal for Christmas: Christmas Connection Benefit" and welcomed all ages. The profit from all ticket sales were donated that night to help fund Christmas presents to children.
The Oklahoma Death Militia, a national organization that supports all genres of metal, sponsored this event. Along with Severed By Sin, eight other homegrown bands participated such as: Six Years Dead, Burial Ritual, and Chronicles of Mayhem.
I attended this show and had a great time. Although I don't listen to metal regularly, it wasn't hard to get into the music at all. The showmanship of vocalist, Tyler Comes is ongoing throughout the performance. He keeps the crowds' attention with high-energy singing and saying clever cracks in between sets.
The melodic bass lines and sadistic drum patterns captured my ear's attention, while the raw talent and beefy vocals of Tyler Comes forced me to throw my fists in the air. I would recommend checking out Severed By Sin to anyone who enjoys live music.