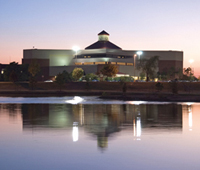 Scores of students threaded their way through crowds gathered in the Main Building last week to speak with university representatives during the annual Transfer Fair Sept. 29.
Recruiters from 28 universities staffed tables lining the hallway to the College Union.
"The Transfer Fair is going really well," said Sara McElroy, Transferring and Academic Advising coordinator, who organized the event.
McElroy said the exact number of students who attended the fair was hard to calculate because anyone walking through the Main Building would have found it hard to miss.
The University of Central Oklahoma in Edmond, Oklahoma City University in Oklahoma City, and several departments from the University of Oklahoma in Norman and the OU Health Sciences Center in Oklahoma City drew the most visitors, she said.
Many students asked about the criteria to transfer and the degree programs at these colleges.
Mahogany Hamilton, child development major, said the representatives she talked to prompted her to think about expanding her goals.
"[The] Transfer Fair opened doors for me," Hamilton said. "My education was going to end here but now I'm now going to look into the university tours that OCCC offers."
Nursing major Breneshia Thomas also said the Transfer Fair was helpful to her.
"It definitely makes me think of transferring," Thomas said.
McElroy said the college will host another Transfer Fair in February.
For more information or to register to attend a university tour, contact McElroy at 405-682-1611 ext. 7567, or e-mail smcelroy@occc.edu.
To contact Emily Schorr, email staffwriter1@occc.edu.