Fiddler and cellist to perform Nov. 9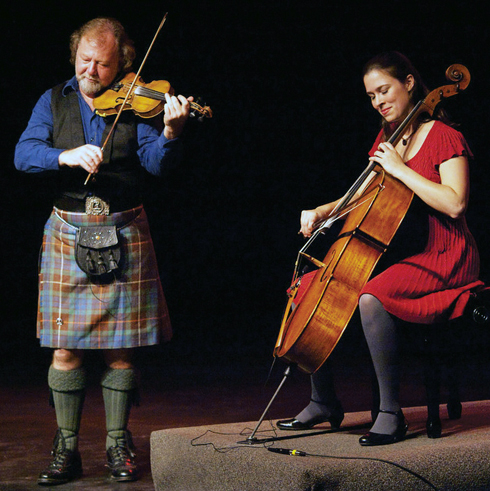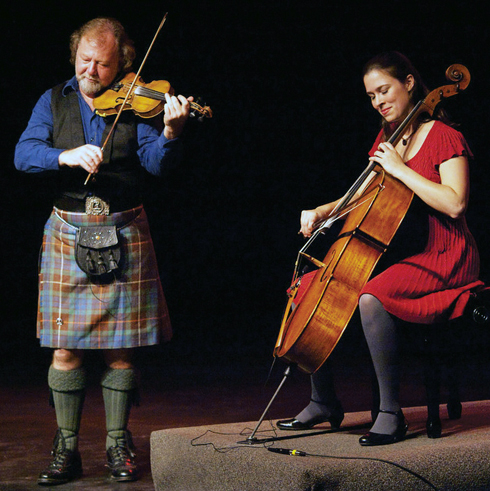 File Photo/Pioneer
Scottish fiddler Alasdair Fraser performs with cellist Natalie Haas. Fraser and Haas will take the stage at 7 p.m. Tuesday, Nov. 9, in the Bruce Owen Theater. Tickets may be purchased by visiting www.occc.edu/cas, at the Cultural Arts Series ticket office, located in room 1G1A in the Main Building, or at the door. Tickets for students and children under 17 cost $12.50. Seniors 55 and older, and OCCC faculty, staff and Alumni Association members pay $19.50. General admission tickets are $24.50.
Internationally-recognized Scottish fiddler Alasdair Fraser, along with young cellist Natalie Haas, will take the stage at 7 p.m. Tuesday, Nov. 9, in the Bruce Owen Theater.
Scott Tigert, Cultural Programs assistant, said Fraser is Scotland's premier fiddle ambassador.
In addition to winning several awards, his work has been featured in blockbuster movies like "Last of the Mohicans" and "Titanic," according to the OCCC website.
Another celebrated musician, Haas, will perform with Fraser.
Haas, a Californian who graduated from the Juilliard School of Music in New York City, wasn't even born when Fraser was winning national fiddle competitions on the other side of the Atlantic.
"Natalie has literally reinvented tradition," Tigert said.
He said Haas brings ancient Scottish music back with strong bass lines that bring the rhythm to life.
The combination of the fiddle and cello was the dance music of choice dating back to the 1700s.
Pianos and accordions have since pushed out the fiddle and cello, Tigert said, and years ago Fraser had been searching for a cellist to bring back this tradition.
Haas was his answer.
He said the cello and the fiddle have seen a resurgence since the late 20th century.
"The two combined are just amazing," he said. "They are two of the best, if not the best, in their field."
Tigert said Lemuel Bardeguez, Cultural Programs director, discovered this duo at a booking conference.
"You won't get to experience this anywhere else," Tigert said. "It's top notch stuff."
Tigert encourages students to attend performances hosted by Cultural Programs.
He said students will not have many chances to attend performances of this caliber for $12.50.
Even if it is not a musical genre that typically interests them, Tigert said, he encourages students to attend.
"You never know when you might hear something you like," he said.