Schedule change for library better than alternatives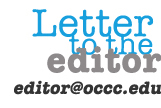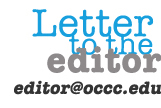 To the Editor:
The move by OCCC to limit the library hours is the least worst option OCCC had.
Closing the library at 9pm will save hundreds of thousands of dollars in electric bills and staff costs.
With the onset of additional budget cuts many, services and classes will have to be reduced.
It's very promising that OCCC has decided to take proactive steps in making sure that core services are preserved.
The way OCCC's administration has handled this situation is superior to many other colleges and government agencies that have failed to get ahead of this issue.
By acting now, it will help prevent catastrophic layoffs and tuition increases.
The state legislature would be well served by being as proactive and creative as OCCC has been.