'Same Daydream' an eclectic mix of music genres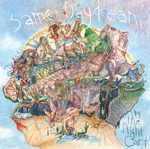 The world of music has grown so dense that sometimes it becomes a battle just deciding what is worth listening to. Every once in a while however, an album comes along that shatters that image for a brief moment.
"Same Daydream" by The Night Cart is that kind of album.
The Night Cart is an Oklahoma City-based indie-rock group with roots in so many genres that the resulting sound is like a properly aged scotch for the ears.
From the first track to the last on "Same Daydream," listeners can hear hints of jazz, folk, post-punk, grunge, country and old-fashioned rock 'n' roll.
The emotional tones of many of the tracks are similar to the emotional tone of Dorothea Lange photographs, Berthe Morisot paintings, or Alexander Wang couture.
It is a tightly harnessed, mature sound with a tonality that presents intellectualism and raw emotionalism as left and right channels to this aural yin-yang symbol.
"Five O'Clock," the ninth track on the album, exemplifies this worn, beaten and tired feeling that seems to scream, "Despite it all, I will make the best of this."
There are no bad, or filler tracks on this album. Every song has deep lyrical meaning. For instance the hook on "Right Charade" says, "'cause I want to belong /to the right charade. /But I'm gonna sell my soul /just to feel in control."
There also are technical achievements subtly added to several tracks.
With "Drown in the Sea," the addition of an accordion over the refrain makes parts of the song feel a bit like a shanty, which has been wrapped into this nouveau grunge tune.
Brandon Isaak, vocalist for the band and OCCC Communications Lab assistant, describes the band as a "trans-genre band."
"I like an eclectic collection of music," Issak said. "So why not play eclectic music?"
The band formed in the summer of 2010 under the moniker of Mockingbird but changed its name to The Night Cart as they became more serious about music.
"Everyone in the band wants to be a professional musician," Isaak said. "The Oklahoma scene will only get you so far, so we are submitting the album to online radio stations, online stores, and audio and recording reps."
The album releases Thursday, March 15, and will be available on Amazon and other retail sites.
Overall, this is a phenomenal album that plays well with the quiet moments in life.
Rating: A+
—Mike Wormley
Online Writer
To contact Mike Wormley, email onlinewriter@occc.edu.