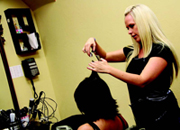 Courtesy of Casey Akard
Stacy Mckinley, Déjà Vu stylist, cuts a client's hair.
A recent visit to Déjà Vu Salon & Spa located off Interstate-240 and Walker left me reminiscent of my past experiences in hair salons, and that feeling was anything but déjà vu.
Too often my experience with hair stylists has been a beauty disaster.
Either they cut too much off or have styled it into something that resembled a French poodle.
Never a good combination when you are a young woman aiming to have style that would make the Kardashians envious.
Déjà Vu is your stereotypical hair salon: stylists sporting the latest in hair trends, the aroma of top-of-the-line professional hair products, and the sound of blow dryers mixed with the useless chatter of salon gossip.
All of the things that give you warm fuzzy feelings.
Beyond the common hair cuts and colors, this salon also offers products and services such as an infrared sauna, hair extensions, permanent makeup, massages, facials, hair straightening treatments and so on.
Déjà Vu showcases talented stylists who appear to be passionate and quite skilled in their craft.
The stylists at Déjà Vu all had clients in their chairs that appeared to be quite pleased with the work being done.
The stylist who worked on me, Tammy, gave me a brief consultation before she began her work. We discussed the haircut that I desired, and she gave me input on what she thought would work well with my facial shape and style preference.
Tammy, who also works for big hair companies such as Cricket and Bionic, has the best prices for the skills she performs.
With this in mind, my only complaint would be that I was undercharged.
Though I didn't participate in any of the spa treatments, my initial impression has won me over as a repeat client and walking advertisement.
With an increased boost in confidence, I walked away loving my hair and feeling sexier than I had in awhile.
Alas, I could finally give the Kardashians a run for their money.
Though I can be cynical and critical with most places of business and products, Déjà Vu deserves an A rating.
Rating: A
To contact Casey R. Akard, email onlineeditor@occc.edu.