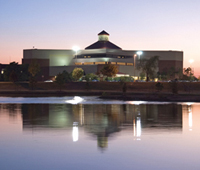 OCCC students will have at least one more option when it comes to the classes available for the upcoming spring semester.
Religion and Politics in America is a new special topics class offered by the Markus Smith, Political Science Department chairman. The class will be 10 to 10:50 a.m. Mondays, Wednesdays and Fridays.
The course is not currently listed in the OCCC spring course catalog list but it will be added to the list available online, Smith said.
Smith said it will give students a better understanding of the history of the early church, and the impact religion has had in America.
"Students should know that this course will not delve into students' interpretations of biblical scriptures, religious values, beliefs, etc.," Smith said.
"If that is what the student is looking for, then I suggest that they simply attend church."
Smith also said that whether the U.S. is a Christian nation, secular nation or something entirely different will be a topic of discussion throughout the semester.
In addition, the idea of separation of church and state, how religion has shaped politics, and what influence religion has on political leaders would be discussed as well, Smith said.
Political Science student Morgan Miller said he's interested in the class.
"This class definitely intrigues me; it is the controversial question concerning how much religion can affect the political system either directly or indirectly through voting," Miller said.
On the complete opposite end of the spectrum, however, OCCC student Patrick Hartley said he disagrees.
"This class concerns me," Hartley said.
"I believe that politics and religion have no place together, even in the classroom.
"To me it substantiates the idea that religion has any place in American politics."
Despite the controversy religion and politics may cause among certain people, Smith assures students that is not the intention of the class.
"Students should know that this course is about educating and informing (them) on the impacts of religion to give (them) a better understanding of how religion has shaped the American conscience," he said.
"I will ensure that the course is not dominated by religiously-driven political rhetoric, as this will be counterproductive and takes away from the constructive and academic setting in which this course was designed."
Smith also added that the class would be great for sociology or political science majors, as the class takes elements from both areas of study.
"Being that this course will study the impact of religion in society, it's a win-win situation for both political science and sociology majors especially," Smith said.
All in all, Smith said he believes students should come away with a lot by the closing of the spring semester.
"The end goal is for students to have a better understanding of the history of the early church, as well as how religion has impacted American society throughout the centuries," Smith said.
The course is available on MineOnline for students to enroll in.
For more information, call Smith at 405-682-1611, ext. 7730.
To contact Morgan Beard,
email staffwriter2@occc.edu.