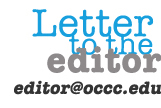 To the Editor:
The Regional Food Bank of Oklahoma is seeking individuals to help grow the nonprofit's Pillar Volunteer program.
Pillar Volunteers are skills-based volunteers who donate their time in a specialized field to further the mission of the Regional Food Bank in "Fighting Hunger…Feeding Hope."
"With the help of our volunteers, the Regional Food Bank is able to provide enough food to feed 116,000 Oklahomans each week," said Rodney Bivens, executive director of the Regional Food Bank. "Having a pool of volunteers with skills that can be applied to targeted needs is simply the next step in volunteer recruitment."
Available Pillar Volunteer positions include Volunteer Center Team Leaders.  Team Leaders are trained volunteers that are able to independently lead groups of up to 40 other volunteers in completing a food sorting or packing project in our Volunteer Center. Direct communication, safety and organization are essential for this position.
"Volunteering can be a powerful, life-changing experience," said Amanda Cummings, a past Pillar Volunteer. "I encourage anyone to commit to an organization that they're passionate about. Personally, I enjoy volunteering for the Regional Food Bank every chance that I can in order to help make a positive impact. They are incredible people that are passionate about 'Fighting Hunger… Feeding Hope.'"
For more information about the Pillar Volunteer program, or the Regional Food Bank, contact Vinita Newman at 405 600-3143 or vnewman@regionalfoodbank.org.
Together, we can solve hunger. Through April 30, the Charles and Cassandra Bowen Charitable Foundation and two anonymous families are offering to match every dollar given toward senior hunger relief, up to $120,000.  To make a donation, visit feedokseniors.org or call 405 600-3136.