Regents name new OCCC president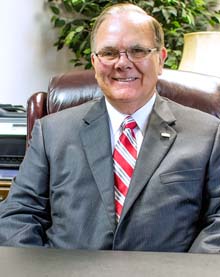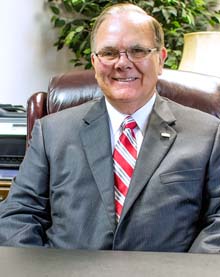 Jerry Steward, photograph Ethan Cooper/Pioneer.
Jerry Steward, Executive Vice President, was announced as the new OCCC president in a special Board of Regents meeting held Friday, April 10.
Steward will take over as president July 2.
All but one regent, Helen Camey, voted yes for Steward to become president.
During the search process, Camey maintained the college should conduct an external search as well as an internal one. She said that is what prompted her "no" vote.
"The vote that I cast today was not against Dr. Steward in any way, shape, form or fashion," she said. "It was against the process … .
"I am very proud and glad that he is the new president."
Regent James White said the process was tedious, but said he is confident the best person was chosen.
"I believe it was the right decision," he said.
"The time is right for [Steward] to be here, particularly in light of the funding we're going to have … ."
Business and Finance Vice President John Boyd said he also supports the regents decision on Steward.
"I'm very excited about it," Boyd said.
"Dr. Steward and I have a great working relationship. I've been working for him for almost nine years, so I think he's going to be a great leader for the college."
Current President Paul Sechrist said Steward has served as executive vice president for most of his presidency.
He said he believes Steward understands the college, supports the students and believes in the mission.
"Certainly, I've seen him in action," Sechrist said. "I think the college is in good hands for the future."
Steward said he is pleased with the outcome.
"I'm very pleased that [the Board of Regents] had the confidence to name me the next president and I will do everything in my power to justify their trust," he said.
"My goal in the next few months is to serve President Sechrist as he completes his term here," he said.
Steward has been an OCCC employee for 20 years, but said he has been closely associated with the college for 40 years.
Steward began his employment at the college on July 1, 1995, where he assumed his longest held position as General Council and as a political science professor for 10 years.
"Then, over the years, I have moved from that to a series of administrative positions and have been the executive vice president since 2008," he said.
Before that, Steward said, he was a member of the Board of Regents from 1974 to 1976.
In 1976, he said, he ran for a seat in the state legislature, and won.
Steward said he remained in the House of Representatives until 1980, the same year he became involved on the Board of Directors of the OCCC foundation — the precursor to the current foundation.
"I was just a general supporter of the community."
For now, he said, he cannot discuss any details on his plans as president, but said he does plan to continue the focus on students, through such programs as college readiness, student success, graduate success and community development.
" … Roadmap 2018 — it's really the plan for this institution."
Sechrist's last day as OCCC president is July 1. He announced his retirement plans in an email Oct. 13. He has been president for almost a decade.
Steward made one last statement to the board in his acceptance speech before the meeting adjourned.
"You have my word and my commitment that I will serve you with honor, integrity and total commitment to our students, faculty, staff, and our community and to the Board of Regents."
To contact Bryce McElhaney,email editor@occc.edu