Regents Discuss Budget Cuts; DACA Proposal
Oklahoma City Community College's Board of Regents discussed ways to deal with possible new cuts in higher education funding during their meeting Monday.
After the Oklahoma Supreme Court ruled a cigarette tax passed by the Oklahoma Legislature during the spring 2017 session was unconstitutional, many state agencies began to scramble to address what could become new cuts in their budgets.
Jerry Steward, OCCC President, said he had not heard a state lawmaker say if anything could be done about the hole. "I have visited with members in both houses, and parties," Steward said. "There are three solutions, but not one legislator has made set plans to fix the budget. Not to say they won't, I'm just saying I haven't talked to anyone who says they will, and I've talked to people of substantial authority."
Steward said if the legislature cuts higher education by 1 percent or 5 percent that OCCC would be prepared. He said the college had taken preemptive measures, "We've had a fairly conservative budget team, so no matter what happens, we'll weather that financial storm."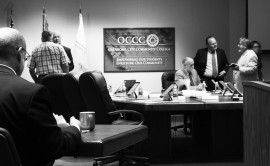 Along with the budget the Steward discussed what will happen to Deferred Action for Childhood Arrivals act under the Trump Administration.
Last week, President Donald Trump said he planned to eliminate the DACA act, which was passed by the Obama Administration. Trump's decision to repeal the executive order could put  more than 800,000 immigrant children at risk of deportation.
Steward said though there are 183 undocumented students at OCCC. He said he's not sure who has DACA. Despite those students' status, Steward told the regents he wanted to ensure the students that they are welcome.
"And we want to provide for their needs, and we will be closely monitoring them," he said.
Along with the undocumented students, several other groups of students have found themselves staying at OCCC longer than expected. Greg Gardner, Vice President for Academic Affairs, said students are spending more time at OCCC and the college's graduation rate has decreased.
In his report Gardner said there could be several reasons for this trend. He pointed to the college's enrollment rate, which has dropped by 15,000 since 2013. Gardner said the students who transfer to four year universities contribute to the decrease in graduation rates. He said he hopes the decrease will stabilize.
Gardner said the increase in students' length of degree completion is also a factor in longer stays because of remedial courses. "We want more people out of non-accredited courses," he said.
He said one step the board took to increase graduation rates was the 2+2 initiative. That program gives seniors at three high schools the opportunity to take a statistics course for their optional fourth year math class.
Those students, Gardner said, would have the opportunity to take the course, with the same professor, at OCCC and would not have to take the remedial courses required with a 19 or below ACT score.
Kevin Perry, a member of the regents, said he expected the number of students who take advantage of the 2+2 program to increase. "I think it's going to be a course that will organically grow," he said.
Perry said it's up to OCCC as a college, to make sure counselors are letting the students know about the program as well. "President Stewart wants that to happen, so I think it will grow, and hopefully they will become OCCC students."
The Board of Regents said their primary goal was to help students be more successful during their time at OCCC.