Regents approve design to plant 1,000 trees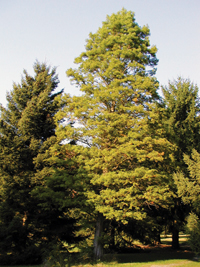 A plan to plant about 1,000 on campus over the next few years was approved by the OCCC Board of Regents during the Nov. 15 meeting.
Howard-Fairbairn Site Design developed the plans to plant the trees, subject to the availability of funds. Cody Klein, Howard-Fairbairn associate, made the presentation to the board.
In an e-mail, OCCC President Paul Sechrist said the project will cost more than $400,000.
Funds are expected to come from a variety of sources, including private funds and donations, as well as Section 13 Offset money, which is state funding designated for capital improvement projects.
Sechrist said the college also hopes to offset some of the cost by using some trees already planted in the campus tree nursery.
Student reactions about the project were mixed.
Kayla Snyder, pre-pharmacy major, expressed concern about funding the improvements and construction.
"I hope that if they do anything, they do it (over the) summer," Snyder said, because recent construction projects have made getting around campus difficult.
However, Snyder said, she believes the improvements would make campus more appealing and attractive to both current and prospective students.
Keegan Parrish, film and video major, said the trees would "keep students spirits up when times are stressful" on campus.
According to the design plans, trees would be planted in four phases.
Recommended trees include Chinese pistache, bald cypress, shumard oak, cedar elm, deodar cedar, loblolly pine, Nellie R. Stevens holly and Leyland cypress.
Klein said these trees are low maintenance and "well-suited for Oklahoma."
The use of evergreens will provide year-round greenery during the fall and winter seasons.
The first phase will outline the north and east boundaries of campus, which are the frontages to SW 74th St. and South May Avenue, he said.
Trees would help "mask the unsightly southern boundary" of campus, to be completed in the second phase of the project, Klein said.
The third phase will be focused to the interior of the campus along Faculty Circle.
The fourth and final planting phase was designed specifically for the new John Massey Center, which has yet to be built, and the secondary campus entry off of South May Avenue.