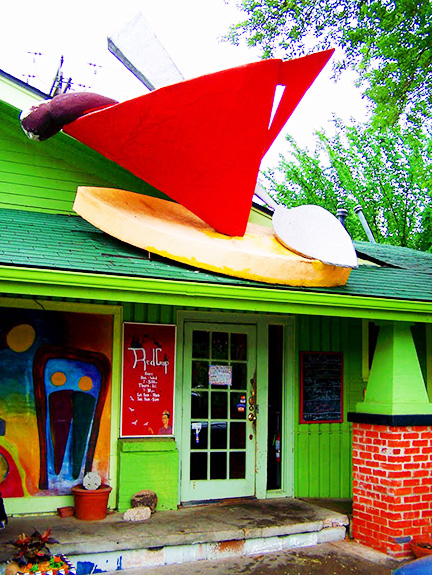 Tucked away in an alley in Oklahoma City, there sits a vegetarian coffee place.
It's one of those places that only the coolest, trendiest people know about and I've eaten there. They call it The Red Cup.
The Red Cup's exterior is colorful, rundown and sketchy, like Willy Wonka's old crack den. This made the coolness inside even cooler.
When I walked in, I found the tackiest interior this side of Pee-Wee's Playhouse. It was awesome. The walls were all different colors, ugly modern art covered them and the ambient music went from jazz to classic rock to '80s pop.
Since my favorite food is white bread and my favorite color is wood, I was charmed by this in-your-face crowded mess of a restaurant.
When it came time to order from the purposely-misspelled menu, I decided to get spaghetti. It was the only way I could eat at this vegetarian restaurant without really eating vegetables.
It was good, though it could have been microwaved Lean Cuisine for all I know. The real star of the meal was my latte, which they call a Sexi Mexi. It was served in  — you guessed it  — a chipped red cup.
It may have been the best cup of coffee I've ever had. It absolutely was sexy. It was the first time something made love to my mouth and I felt like the one who was taking advantage.
The girl at the counter bedazzled my beverage with dashes of cayenne pepper and spices.
She poured pepper into her bare hands and dusted them off into my drink. I wasn't sure if she was supposed to do that, but I didn't want to seem square.
The atmosphere was chill, casual. I felt interesting and deep as I chatted with my lady. There were hipsters there, old ladies and even a homeless man that looked like a Mary Poppins chimney sweep. It was a little slice of New York City.
The Red Cup is definitely a coffee place that serves vegetarian food, and not the other way around. And that's fine with me.
Rating: A