Reception to be held for Absolute Literary Journal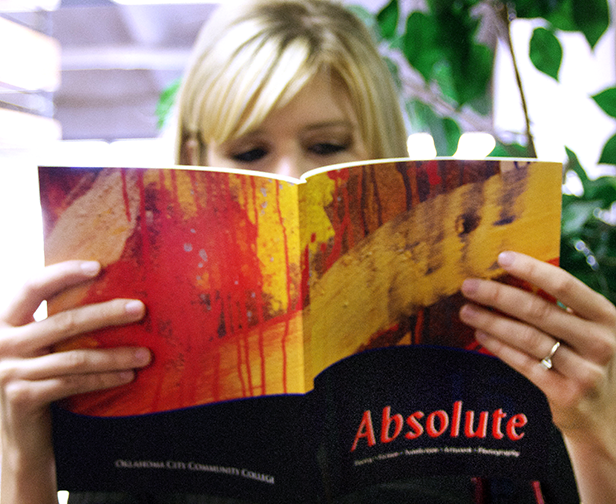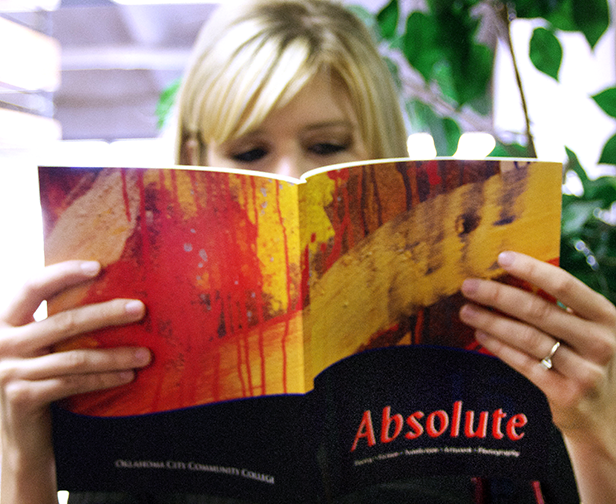 A reception to celebrate the 44th annual edition of OCCC's literary journal Absolute and honor the writers and contributors will be from 12:30 to 1:20 p.m. Thursday, April 21, in College Union room 1 and 2. The event is free and open to everyone.
At noon OCCC's Jazz Ensemble will perform prior to the event, said English Professor Marybeth McCauley, who serves as the journal's faculty adviser.
"We have so many talented people at OCCC," McCauley said. "The Absolute reception provides an opportunity to celebrate those whose work was chosen for publication."
Absolute is a collection of fiction and nonfiction writing, art, and photography, submitted from individuals all over the community.
During the reception, guests will hear readings of pieces that can be found in Absolute 2016. A Critics Choice awards ceremony will honor this year's top submissions.
"It's great for the writers and artists whose work has been published to be recognized," McCauley said. "This is also inspiring for other people who would like to submit photography, artwork, poetry, short stories, or creative nonfiction to Absolute 2017."
Light refreshments will be provided at the reception and copies of Absolute 2016 will be available for purchase for $5. Following the reception, copies of Absolute will be available for purchase in the OCCC bookstore.
Diversified studies major and student editor Betsy Blair said this edition is outstanding.
"I have seen the finished product, and I can tell you that it looks fantastic–beautiful cover and a diverse collection of fiction, non-fiction, poetry and art," she said.
"I would encourage anyone who has a story to tell, or who has experimented with the craft of writing poetry to purchase this year's Absolute, and make a point to submit their own work in the future," Blair said.
Submissions for Absolute 2017 will be accepted until Dec. 1.
Online submission forms can be found under the Academics tab at occc.edu.
For more information, contact McCauley at 405-682-7820 ext. 7405 or Betsy Blair at elisabeth.a.blair@occc.edu