Real housekeepers of OCCC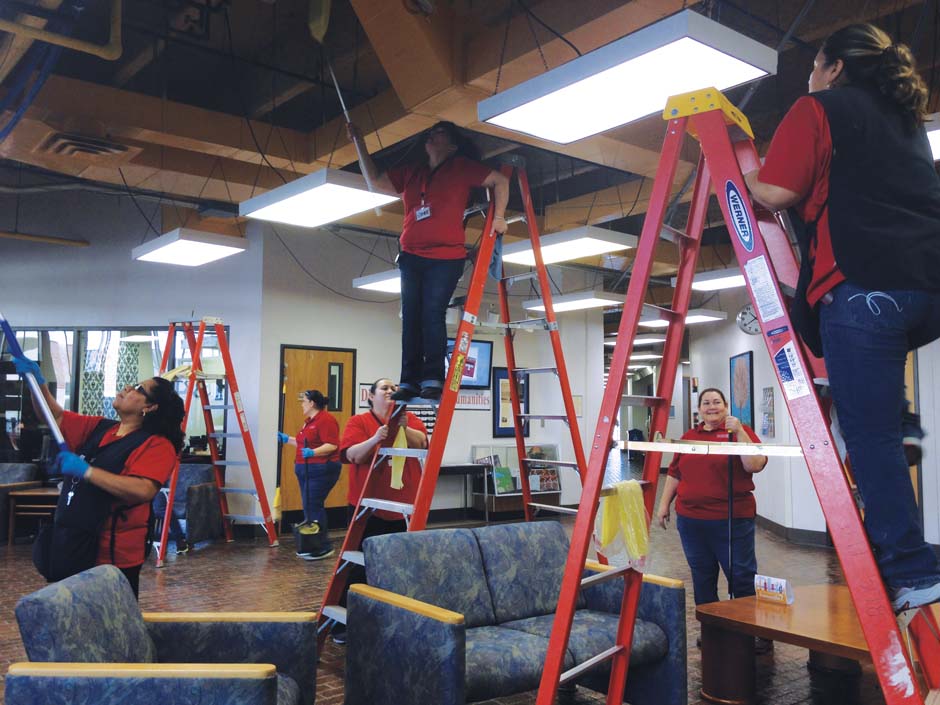 The ten women on the daytime custodial staff spend their working hours scrubbing and dusting to make sure OCCC students enjoy a tidy campus while they pursue their college degrees.
The housekeepers themselves, all immigrants and U.S. residents, have certifications from their home countries but lack the ability to speak and understand English. Yet they feel fortunate to have steady work and hope for a better future for their children.
They begin their shift every day at 9 a.m. by restocking their push carts with rags, cleaning spray, paper towels, and other supplies.
The custodial services department is led by the director of custodial Operations Antonio Hunter, has two shifts responsible for the sanitary conditions at OCCC.
Supervisor Shaquille Caster said workers on the day shift, from 9 a.m. to 5 p.m., are always dependable and willing to help each other.
On the other hand, the second shift has a high turnover, Caster said. "No one wants to work 9 p.m. to 6 a.m."
From the morning shift, Josefina Lopez, from El Salvador, said she was enrolling her son at Santa Fe Pathways Middle College at OCCC when she found they were hiring for the custodial department. She quickly applied and was hired onto the OCCC staff and has been an employee for six years. Her son, pursuing a physical therapy degree, is attending his second semester at OCCC Lopez said. "I feel very proud of him because he's the first in our family to attend college."
Lopez said she's taking English classes at the OCCC FACE Center.
"I've been attending classes for three years," said Lopez. "I'm learning English because I want to be able to defend myself to others in English."
Lopez said people, herself included, feel ignorant when others critique them or talk down to them. By learning English, she said, she would be able to defend herself.
"I want to be able to speak, understand, and hold a conversation with others in English," said Lopez. She said she hopes to take exam to obtain a driver's license after she completes her English language courses.
"She's a very hard worker," Caster said of Lopez. "I've been working with her for four years," Caster said.
Lopez said the accessibility of getting to work is a plus for her. Lopez doesn't drive; therefore she takes the city bus to and from work every day, or walks four miles when she has to.
Lopez typically cleans on the second level of the main building.
For all the women, Spanish is their first language and they fall back on that during breaks together.
Reyna Martinez and Delfina De Moss said they worked together at McDonald's prior to working at OCCC. A close friendship between the two was apparent while speaking with them.
"Nos aventabamos las hamburguesas." De Moss said. "Cachala amiga! Necesito lechuga, alli te va."
De Moss jokingly said they would toss the burgers to each other. One would yell to the other "Catch the burger".
"I need lettuce," De Moss said she would yell.
Martinez would respond, "Here it goes," tossing a leaf (or head) of lettuce to her co-worker.
The ladies made the group laugh while describing their past employment together.
Martinez is from the city of Allende in Coahuila, state in Mexico. At home, Martinez has three daughters ages 11, 19, and 23 who keep her busy. Her oldest graduated from Platt College and now works at a clinic in Oklahoma City as a nurse said Martinez and her middle child is following her older sister's footsteps.
"My youngest doesn't want to be a nurse. She likes to express herself through art. She loves to draw and wants to be a painter when she grows us," Martinez said of her 11 year old daughter.
Martinez graduated with accounting and secretary certifications in Mexico. Learning to speak and understand English is part of the plan to work towards getting a job in those fields said Martinez.
Martinez said she likes to work by in the Arts and Humanities Building by herself so she can ensure the job is done and done right.
Martinez said her favorite part of working as a custodian at OCCC is the stress free environment. In essence, each staff member works independently, focusing on her assigned areas, Martinez said.
Aurora Andrade said she enjoys her time off on weekends and holidays, a luxury she has not had at any previous places of work. Andrade has been employed at OCCC for a year and a half. She is from Chihuahua, in northern Mexico and has been living in Oklahoma City for 10 years.
"I was a nurse for 15 years back in Mexico," said Andrade.
Andrade said she was going to pursue classes to learn English.
Students in the Health Professions Center might have seen Rosario Jimenez pushing her cleaning cart around.
"Tony es un buen patrón, y Doña Carmen es una buena supervisora y estoy muy agusto trabajando aqui," Jimenez said, speaking about her supervisors and her feelings about the job. She said her bosses are good people and she's comfortable working at OCCC. Jimenez has children, now adults, living in Houston, Texas.
Rosalinda Ramirez said her favorite part about working at OCCC is socializing with her co-workers during breaks and lunch. Ramirez is from Guanajuato, in the central Mexican highlands, and will celebrate her one year anniversary at OCCC in March of this year.
Ramirez can be found cleaning windows and dusting in the John Massey Center, Transportation Technologies Center, and areas in the Science, Math, and Engineering Center.
A little more than a year ago, Maria Luisa Orduña said she found that OCCC was hiring through a friend. Orduña says she loves her work schedule and has made new friends.
"Soy de Guanajuato, las momias," said Orduña laughing as she talked about where she's from. Guanajuato, Mexico, is home to a mummy museum exhibit which is a big part of the culture in Guanajuato according to momiasdeguanajuato.gob.mx.
The museum, Museo De Las Momias de Guanajuato, is located in the downtown area of the city of Guanajuato.
"The skeletons came out of tombs, had a little touch up, and now are being displayed. They look very real and are extremely scary looking," said Orduña.
Every morning Orduña begins her shift in the OCCC Leftwich Memorial Library. Orduña has been at OCCC for a little over one year.
Mother of three, ages 8, 15, and 20, Maria Carnero from Chihuahua, Mexico said she likes everything about her employment at OCCC. Carnero said she hopes her children grow up to be good people and treat others with respect. Her youngest wants to be a teacher. She hopes her kids are career driven. Carnero makes sure the Welcome Center and the Main Building are squeaky clean for anyone who walks through those OCCC doors.
The women of the custodial department received their certifications in their home country but because they haven't mastered speaking and understanding the English language, they have not been able to pursue job openings in those fields.
But the women expressed their desire to learn English.
"I'm going to make it a priority to take classes and start learning," said Orduña.