Reader says coffee shop offers little food during night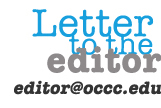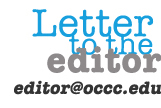 To the editor:
I was intrigued by a comment made by Carson's manager Corrine Aguilar in last week's issue of the Pioneer.
In "Investigation exposes food service issue," Aguilar claims Carson's food is made available in the evenings via the Coffee Shop.
As someone who has been at OCCC for two years, and has had many a semester full of night classes, I can assure you this is not true.
Many evenings either during breaks in class or immediately after it, I have wandered down to the Coffee Shop in search of a quick pick-me-up, only to find the pickings are slim.
The only food items available are usually some leftover cake slices and pastries, neither of which are even offered by Carson's in the first place.
In fact, the only Carson's item I have ever seen for sale in the Coffee Shop are a handful of breakfast burritos in the morning.
As a night student, this is beyond frustrating.
With Carson's closing down at 6 p.m most days — if even that long — it is impossible to get a good meal or snack on campus at nighttime.
The bookstore and vending machines provide some unhealthy options, but for someone who is trying to take care of her body, a 200-calorie bag of Doritos isn't exactly appealing.
Aguilar said she is here for us, the students, but it sure doesn't seem that way to me.
It's one thing not to offer any food after closing time, but to make false claims that you do is unacceptable.