Professor, community reacts after video drops about alleged unethical OCCC culture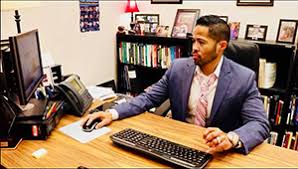 By Brooklyn Learned–Community Editor —
Markus Smith, professor of political science at Oklahoma City Community College, posted a video on social media Sept. 17 that has received dozens of comments in support from current and former students, their parents and the community.
The video is about his struggles with this culture of working at OCCC. In it he discusses how problems within the OCCC work environment have a negative impact on employees and have for many years.
A message requesting comment about the video from OCCC President Jerry Steward was not returned by press time.
Smith said, Sept. 18, that he released the video "My Journey and Struggles at Oklahoma City Community College Interview Coming Soon" to create awareness and to be a voice for others who are too terrified to come forward about the negative culture at OCCC.
"This is a bigger problem than some people may realize," Smith said.
"I have to share so others can share," Smith said.
Smith said he had waited many years to come forward with his story.
"I held off for fear of what I believe to be a culture and climate of retaliation, harassment, and discrimination," Smith said.
He said he didn't speak out for so long because of fear of making his time at the college worse.
"This is sad for me because I got my associate's degree at the community college and it was my goal to come back and give back. It is extremely sad to me that this is the way that it is," Smith said.
Smith said he is aware that he is in a unique position to share his story of harassment and discrimination.
"There are other employees who can't come forward because they can't afford to lose their livelihood and I am going to do everything I can to utilize my resources to be able to fight to bring about change for OCCC employees," he said.
"This is not just one disgruntled employee, look at the comments to the video," Smith said.
The video has been viewed over 1,820 times, and has has over 130 comments so far.
Students, parents and community members are expressing their support for Smith on his Facebook site, where he also posted the video.
Former student Ginger McDowell said she understands what Smith and employees face.
"Sending you all of the support in the world! I've been in this position before with my old agency and that is what brought me to "restart" my career and am halfway through nursing school (loved your class by the way!)," she said.
"I'm sorry you're having to deal with all of this but it takes a lot of courage to do what you are doing! We've all got your back!!"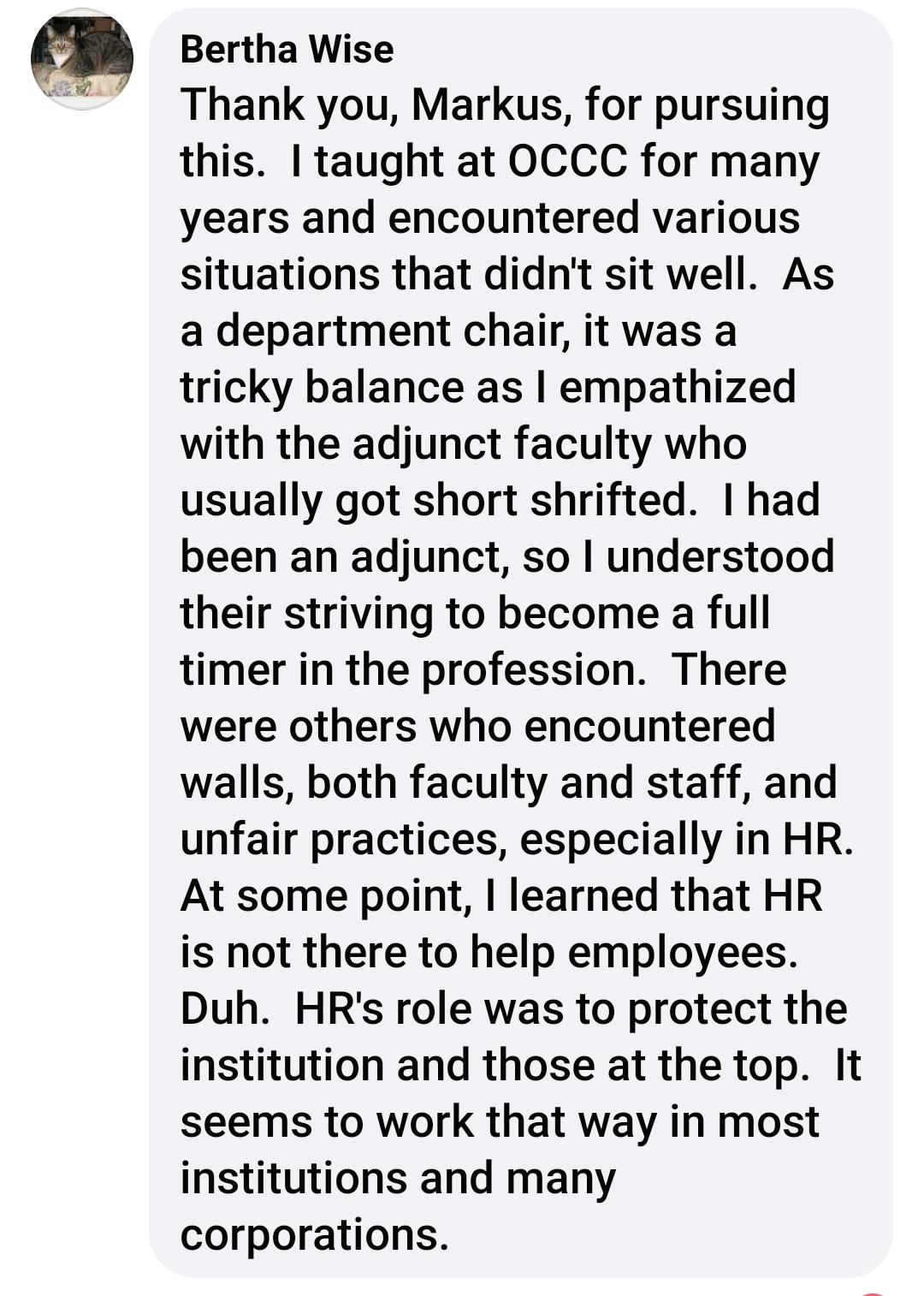 Julie Tran-Henderson called him courageous.
"You are the professor that stands out to me the most. I had the pleasure of taking your class my second semester in and there was so much for me to learn about school and life."
"I'm going to continue to pray for your peace. I am extremely disheartened by the information that OCCC would treat you with anything other than absolute respect," Tran-Henderson said.
Former student Cassidy Jade Climer also showed support.
"You taught all of us how to manage our entire college career as well as our future endeavors after college. You prepared me for what to expect at OU. I'm totally on your side with this. You're a true asset to their teaching staff."
Parents of students who had Smith as a professor also chimed in.
Nancy McConnell said, "You don't know me, but you were one of my daughter's favorite instructors. You could say that you changed her life and taught her how to think critically.
"We know racism happens on a daily basis and that academia is full of hypocrisy. We support you in every endeavor and compliment you on having the courage to fight these multiple injustices. Wishing you the best," McConnell said.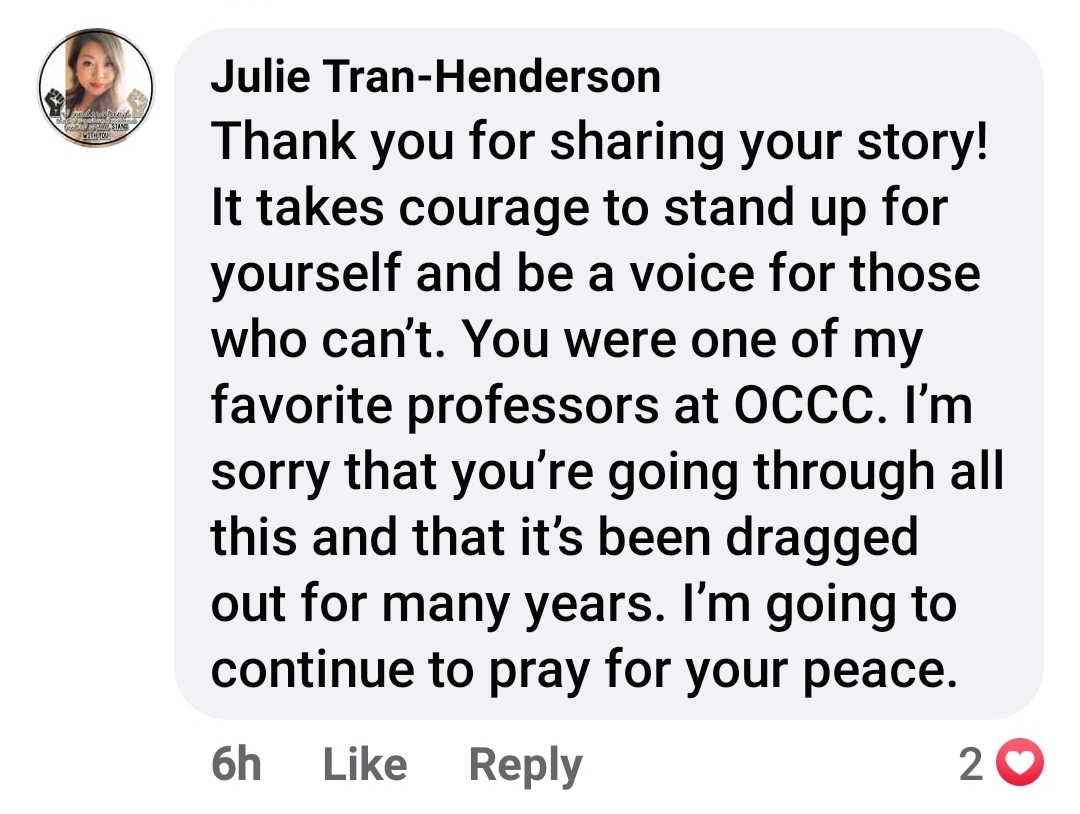 Community members also showed support.
"Thanks you speaking up! Discrimination is real and we need more people like you to be brave and speak out. We will not be silent anymore! #EnoughIsEnough," Tiffini Threatt-Williams said.
Anthony Brown Sr. said,"Man bro I'm SO proud of you for this. Walking close by your side all of these years i can definitely attest to the toll that all of this has taken on you! As always you have my 100% support!"