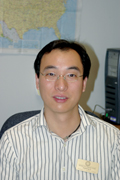 Haifeng Ji
A man who wears multiple hats as a professor of computer science will go to Austin, Texas, next spring to collect an award given in recognition of his contributions to OCCC.
Haifeng Ji has been chosen by the college to receive an Award of Excellence, given by the National Institute for Staff and Organizational Development (NISOD).
Dean of Information Technology Tom Ashby said he nominated Ji for the award because of his "outstanding work" and the "excellence of his teaching."
Ashby said Ji specializes in database administration, but he is also crossing into cyber security, a different area of computer technology.
"He educated himself and worked with faculty to pick up some of the load," he said.
Ashby also said that Ji is using the knowledge he is learning as he pursues a doctorate in Computer Science at the University of Oklahoma to educate his students at OCCC.
In addition to his teaching at OCCC and his studies at OU, Ji also serves as the sponsor of the International Student Association on campus.
"I was an international student, too, when I first came to the U.S.," Ji said. "I know how difficult it can be."
Ji attended the University of Nebraska-Lincoln as an international student and has been in the U.S. ever since. He is from Nanjing, China. He said he visits his home country one or twice a year.
When Ji learned that he had been nominated for the NISOD award, he said he was honored.
"I think it's recognition for my service," he said.
NISOD, according to its website, emphasizes "the importance of teaching and leadership excellence in institutions of higher education." Ji understands the importance of excellent teaching.
"I think being enthusiastic about teaching will make students feel engaged," he said.
OCCC has been nominating faculty members for NISOD Awards of Excellence since the early '90s, Ashby said.
Each college division selects one nominee, except for the two biggest divisions, Arts and Humanities and Math and Science, which select two.
Ji is the representative of the Information Technology division.
Recipients of the award will attend a three-day conference in Austin in May.
The conference will offer presentations on subjects relevant to faculty, staff, and administrators in higher education and will offer networking opportunities in addition to celebrating and recognizing the winners of the awards, according to the NISOD website.
Ji will also be honored at a faculty recognition luncheon at OCCC at the end of the spring semester.
"We're very proud of him," Ashby said. "We're very lucky to have him here at the college."
To contact Katelyn Hardcastle, email onlineeditor@occc.edu.