Prof chosen to lead Circle of Trust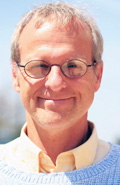 Students in English Professor Stephen Morrow's classes learn the importance of respect for everyone's opinion right from the start.
Morrow said he believes philosophy goes beyond words and should be converted into actions.
The way he handles his classrooms is one way in which Morrow shows his caring personality.
"All of my classrooms are cooperative settings," Morrow said. "When someone talks, everyone listens."
He said it is important that his classroom be a place where students feel safe to voice their opinions and learn more about themselves.
Creating this environment is a product of extensive training which he said, will continue at an even higher level.
Recently Morrow learned he is going to be the first trained Parker Palmer Circle of Trust facilitator on campus. Morrow was chosen from applicants from the U.S. and Canada to be on a team of 16 for the 2011 and 2012 Team for Courage and Renewal.
The Circles of Trust are a part of the Parker Palmer Institute's efforts to help people find their inner voice and be able to speak with it honestly, Morrow said.
"The Circle of Trust is meant to help professionals find strength, integrity and the voice of their best selves and bring that into the workplace," Morrow said. "These circles are a safe place to be."
Morrow said he has attended several of the Parker Palmer retreats and has seen the difference that made in his life.
"I have found a connection and a purpose," Morrow said. "I want to bring that back to our campus, to our students, and to my colleagues."
Parker Palmer started by helping educators to be their truest selves in the classroom in order to have the healthiest working environment for students, Morrow said. He is hoping to do the same.
It has been quite the journey for Morrow to reach where he is today on the Team for Courage and Renewal, and it has just begun.
"To apply, I had to do two years of Courage and Renewal retreats in North Texas," Morrow said.
Applicants were not selected solely because they had attended retreats.
"Palmer is very selective in who he lets lead a Circle of Trust because it is the work of souls," Morrow said.
Being chosen to be a facilitator for a Circle of Trust is an honor that Morrow treasures. "I feel like the luckiest person in the world."
Over the next two years Morrow, along with his 15 teammates, will complete more training involving retreats and extensive homework.
This educator will be getting his own education from one of his heroes.
In 2013, when Morrow has finished his training with Parker Palmer, he will start his work by setting up Circles of Trust with faculty, then students.