Pride weekend draws thousands, despite heat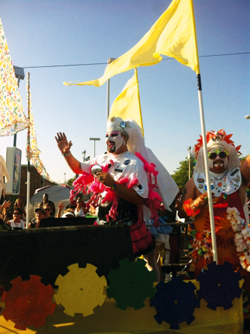 Lindsay Malicoate/Pioneer
Local Oklahomans in full costume show support and provide entertainment at the 2011 OKC Pride Parade.
Thousands gathered on The Strip at NW 39th and Pennsylvania Avenue to celebrate the 24th annual Gay Pride parade hosted by OKC Pride Friday, June 24..
The three-day block party kicked off with a live performance from The Pointer Sisters, a group well known for such hits as "I'm So Excited," "He's So Shy," "Jump (for my love)," and "Slow Hand."
In addition to enjoying the popular singing group, Pride goers enjoyed many vendor booths, beverages and food options.
OCCC student Logan Hilterbrand said the weekend was a great opportunity for all types of people to support one another.
" To me, Pride Weekend is a just a really great chance for everyone to get together to show our support for equal rights and awareness," Hilterbrand said. "The heat can't interfere with that."
Among the many locally sponsored floats in the parade was one sponsored by OCCC's Gay Straight Alliance.
"The float looked great and it was great to see the school supporting such a positive message of diversity," Hilterbrand said.
Popular stand-up comedian ANT was one of the many well-known people who helped attract people to the Parade when he rode through at the beginning, waving and smiling.
OKC Pride estimated more than 70,000 people would gather for the three-day event, a figure that seemed accurate as spectators crammed together, cheering and high-fiving parade marchers.
Though a local news station reported the temperature to be roughly 100 degrees when the parade kicked off on Sunday, those attending found ways to beat the heat.
"Everyone tried to stay cool with water guns, popsicles and kiddy pools," said Taylor Collins, OCCC student and Pride supporter. "The heat ended up adding more fun to the events if anything."
Parade participants shouted calls of "equality now" and "peace now," and displayed signs, T-shirts and banners all intended to promote equality and acceptance.
This year, event goers were encouraged to make a $10 donation that, according to the OKC Pride website, will help fund the future construction of a community health center.
Tarah Forbes, who attended the parade on Sunday, said she strongly believes in the benefits that will come from the new health center's construction.
"I know of many transgendered individuals who have very difficult time gaining access to certain types of health care in Oklahoma, and I believe the new health center will make it much easier for a large number of people to access the health care they need," Forbes said.
Mary Turner, OCCC GSA sponsor, also voiced her support for Pride Weekend and the future health center.
"Not only is it important that we have more health care available in Oklahoma, but with all levels of access," Turner said.
OKC Pride has not yet released a statement of how much was raised for the health center this weekend.
For more information, visit www.okcpride.org.