Preschool children play dirty with worms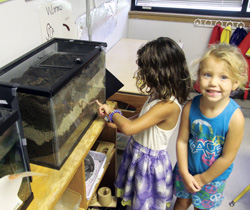 Kylie, 5 (left) and Peyton, 4, examine the aquarium in the Child Development Center. The aquarium houses several species of worms that the children placed inside. They have been observing the worms for the past several days as a class project. (Ethan Hendricks/Pioneer)
Worms don't gross out the children at the Child Development Center and Lab School, said Alexandra Sitzman, early childhood education major.
Students in preschool A at the CDCLS studied several kinds of worms July 5 to 9.
As part of their project, the children set up an aquarium that contains Night Crawlers, Sitzman said.
"They also constructed individual aquariums made out of two liter soda bottles," she said.
"The children are really interested in worms right now."
All of the children in preschool A are involved with the worms.
Children who did not enjoy handling the worms did not have to participate, Sitzman said.
Hailey and Kylie, two 5-year-olds in the class, said they wanted to show off their worms.
Hailey said the words were not gross.
"They don't bite," she said. "They can use their mouths to go into the dirt."
Sitzman said she also is conducting field work over how students interact with each other while studying the worms in the aquarium.
Field work is required for early childhood education degrees, she said, much like a capstone project is for other majors.
Sitzman said she is studying the way the children learn with the project approach.
"I chose my field work for early childhood education as worms," she said, "because it is of interest to the children, and they learn best through hands-on projects."
Aside from the wormy studies, the children also constructed a compost bin which was then infused with red wiggler worms, Sitzman said.
She said the children bring in leftover food to put in the compost bin.