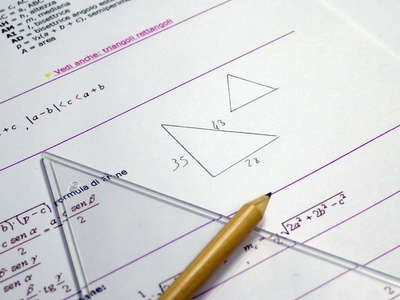 OCCC has seen a sizable increase in the number of students passing their developmental math courses, said Dr. Tamara Carter, director of the math department.
From 2007 to 2010 the OCCC math department has seen a 9 percent increase, from 46 to 55 percent, in the number of students passing developmental math and taking the next step to a college level math course.
Carter said the college has been working for many years to help students succeed in math.
"With the force of the whole campus behind us, we were able to not just tweak things, but able to achieve radical change," Carter said.
Of the 3,027 students who enrolled for a college prep math class in fall 2010, 1,662 passed and moved on to the next level.
Carter said the changes started taking place when OCCC joined the national program, "Achieving the Dream," which is a data driven group. After a year of observation the department concluded the program had too many students not advancing to a college math level.
Carter said last summer the department implemented the first two levels of the college prep math class, and in the fall they unveiled all four levels of the preparatory class.
Students take a placement test at the beginning of each semester to see which one of the four college prep math classes they will be in. The classes can be finished in 8-week or 16-week semesters.
"Level one of the course is a numerical literacy class, and then levels two, three and four integrate arithmetic into algebra," Carter said.
The program focuses on integrating numbers and letters in the early stage of learning. She said this is less intimidating for the students and allows them to start making algebraic connections. Carter said this has been a rewarding experience.
"The exciting thing about it is hearing students who are understanding, that didn't understand before," Carter said.
Gordon Foor, an OCCC student, recently took the college prep math 1 course and has now moved on to college level math classes. He said the developmental class really helps you see math in a simpler way "The course really helps you break things down and see how to put everything together," Foor said.
Taylor Rhoades, another OCCC student, took college prep math 2 in the fall. She has since moved on to college level math and gives all the credit to the fall class she took.
"Before the course, I never thought I would understand complex math, since then I've gained a new outlook," Rhoades said.
Carter said she is excited to see the numbers coming in from this year and hopes that the upward trend continues.
For more information on the college prep math courses, be sure to visit the math department on the second level of the main building at OCCC.