Politicians who exploit tragedies
Summary:
Every word was trash
I've never been a fan of politicians, no matter who they are, what the political party is, or the reasoning behind their purpose.
The lies and persona hardly ever fail to disappoint.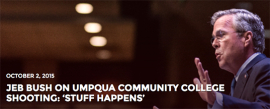 But this review is not about those issues per se. I am reviewing the political speeches stemming from a horrendous act. I'm here to chain up the ass and point out the elephant in the room.
The recent shooting at Umpqua Community College in Oregon was tragic, just like all the other shootings and deaths caused by the increasing violence in the country. As an Oregonian, this hit hard for me. My home was shot up. My people were killed. My community is suffering from the loss, pain and disbelief.
While listening to the news to get updates and see what progress was being made, I saw the speeches and heard the quotes coming from presidential candidates, other politicians and even the president on gun violence and the Second Amendment.
One presidential hopeful, Jeb Bush, said, when referring to the incident, "look, stuff happens."
Every speech, every quote, every word regarding the horrific tragedy was trash. Every podium-poised suit may have spoken with a purpose, but that purpose was insulting.
The speeches, opinions and answers were trash because of how politicians use tragedy for strategy.
We don't want to hear how you will prevent this in the future, how now is the time to act, or how this could have been prevented. We don't want to hear how you feel our pain, that you will do something to help, or what you think about the subject.
We don't want you.
Lucero Alcaraz, Treven Anspach, Rebecka Carnes, Quinn Cooper, Kim Dietz, Lucas Eibel, Jason Johnson, Lawrence Levine and Sarena Moore are the ones we want. Those are the ones who matter — the ones who lost their lives.
Poor speeches, in-the-moment anger, and political plans and agendas fail when it comes to what we want, what we want to hear and what we care about.
My heart is breaking for my home and my tears are real for UCC, unlike the political propaganda spoken and spewed.