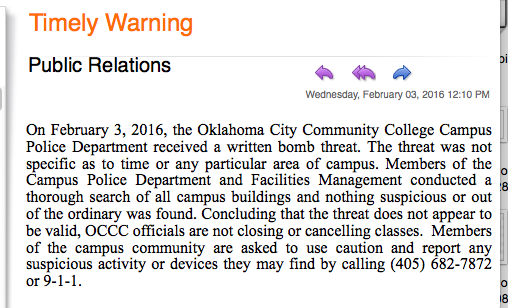 OCCC Campus Police received a call about a hand-written bomb threat, written in pencil on a bathroom stall door on campus at 9:28 a.m. Wednesday, February 3.

Marketing and Public Relations Director Cordell Jordan said OCCC Campus Police and Facilities Management personnel conducted a full search of the campus where no suspicious activity was found. The search was completed by 10:26 a.m.
There was no immediate threat and the bomb threat was not valid, said Jordan.
College staff and students were notified through a warning via e-mail by the public relations department informing students of the situation.
According to the timely warning, OCCC officials decided not to close or cancel classes as there was no validity to the threat.
A final report has not been released as it is an ongoing investigation.
Jordan said if there was ever immediate threat that OCCC would use the campus alert notification system in place to notify students and personnel which include text message, web notifications, phone calls, and emails.
For any questions or concerns regarding this situation please call Cordell Jordan, director of marketing and public relations at 405-682-7590 or email at cordell.t.jordan@occc.edu.