Planting project promises greener campus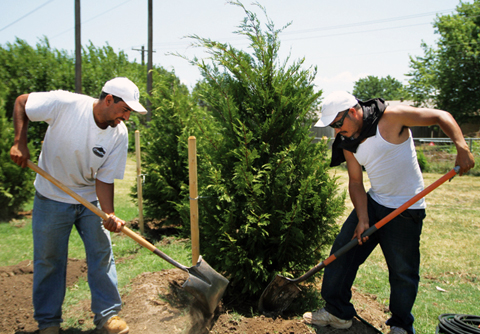 Rachel Morrison/Pioneer
OCCC landscapers, left to right, Antonio Perez and Altemio Bautista, shovel dirt on a newly planted evergreen as part of a large landscaping project located on the south side of campus. The project also includes plumbing, new pipes and irrigation to keep things green.
The campus will soon be greener, as crews finish up the first stage of the Master Site Plan Tree Planting Project.
About 500 trees are being planted along the north, south and east borders of campus.
Most of the west boundary was already done in a previous project, said J.B. Messer, director of facilities management.
Of the first phase, all that remains to be done is a small section on SW 74th Street, said John Boyd, vice president for business and finance.
The work employs 10 to 12 people, Messer said.
The types of trees being planted include pine, cypress, cedar and holly. This project is the first stage of a three-part plan, which also calls for trees along Faculty Circle, Messer said.
Another part of the plan includes a tree-covered walkway across campus. This is all part of the campus master plan, which includes the new theater building.
This first phase of the project cost the college around $289,000, Boyd said. It was paid for out of Section 13 offset funds, which can only be used for capital improvements.
When asked why this project was being done in a recession, Boyd said the funds must be used to make improvements to the college's physical structure.
"We can't use these monies for educational and general operations of the college."
Messer said the beautification project has been in motion for a long time.
Boyd said the master site plan was created by a Washington D.C. firm, Ferril, Madden, and Lewis, who then submitted it to the Board of Regents for approval in 2009.
Trees for the project were provided by Shane Brooks Landscaping, who won the bid.
Messer said that irrigation for the trees was being installed along with the trees themselves, so the trees can withstand Oklahoma's summer heat.
Boyd said the work on the first stage will be done by the second week of July.
Messer stressed the additional trees on campus are meant to encourage students to enjoy the campus grounds and to make outside spaces more inviting.
He also pointed out that things don't always turn out as planned.
He noted an earlier master site plan which showed, among other things, many ponds and bridges. He said economic realities forced planners to abandon this idea.