Plagiarism more likely in information age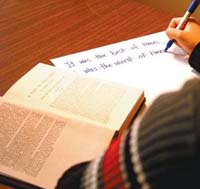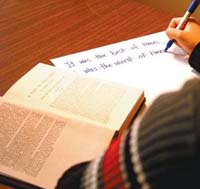 Today's generation of students has grown up in the Internet age. As a result, there seems to be a growing disconnect between students and professors over what constitutes academic integrity and plagiarism.
Digital technology makes information instantly available at everyone's fingertips. Extracting a few sentences or whole sections of an online article and inserting them into a written assignment has never been easier.
In surveys conducted from 2006 to 2010 and published in the Aug. 2 edition of the New York Times, Donald L. McCabe, co-founder of the Center for Academic Integrity, found about 40 percent of 14,000 undergraduate students polled admitted to copying a few sentences into written assignments.
The study also found the number of students who believe copying and pasting from the Internet is cheating declined to 29 percent in the recent survey, down from 34 percent earlier in the decade.
Academic Affairs Vice President Felix Aquino said plagiarism is an indication the student has not mastered writing.
"You're cheating yourself," Aquino said. "The single most important job-related skill today is to write and that goes across all … professions."
Professors have thoughts on plagiarism in academics on campus.
Ray McCullar, history, political science and geography department chair, offered a candid assessment on plagiarism — commonly defined as taking someone else's words and phrasing without attribution, then passing them off as one's own.
He said most of the time it's obvious when plagiarism occurs. "It isn't that hard to figure out when someone is using simple language then suddenly is writing like Mark Twain," he said. "I'd much rather have someone's mediocre work than someone else's stolen work."
Plagiarism is a big problem, said political science Professor Nate Vanden Brook.
"It is stealing and cheating," Vanden Brook said. "I don't think students take it seriously enough because they do not understand it. [OCCC needs] more clarification on this issue to students."
Vanden Brook said there should be an added emphasis on academic integrity at the high school and college levels.
"Technology is a problem because people view the information as free, that they do not have to cite where they got it from," he said. "That is a definite problem."
Vanden Brook said he has two pages dedicated to academic integrity in his syllabus and recommends his students use the website www.lib.usm.edu/legacy/plag/plagiarismtutorial.php which contains a test on plagiarism.
"Technology can be helpful and not all bad," he said. "The reference tab in MS Word, easybib.com, can make technology a great tool if people are made aware of it. It can help alleviate plagiarism."
Vanden Brook said he also strongly encourages his students to use the Communications Lab, a writing center that helps students improve their writing skills.
"The Communications Lab provides an outstanding service and resource to students."
He said he currently requires students to use the Communications Lab twice a semester for two different papers.
Vanden Brook said he finds the papers he receives back from students after using the Communications Lab have hardly any mistakes in them.
He plans to make the Communications Lab a required part of his curriculum in future semesters, he said.
Communications Lab tutor Beau Lewis said he has seen instances of plagiarism on campus — some that are especially obvious.
"The students who copy and paste without changing the font are clearly plagiarizing," Lewis said. "There is an element of laziness to plagiarism, but that is most egregious."
Few would think that plagiarism could creep into a college-level Spanish class, but Modern Languages professor Dianne Broyles said she has seen instances where students are receiving too much help from online resources.
Broyles discourages the use of online translators with her students.
"It does not help generate a good result and does not help the student learn language," Broyles said.
English professor Michael Snyder said he has not yet had to deal with plagiarism on campus, but had experience with it earlier in his teaching career. The issue greatly concerns him, he said.
"I'm glad we have these initial academic assessments because it lets us know what the students are like as writers," he said.
Snyder said he can tell plagiarism when "the style and tone do not match earlier assessments."
The Communications Lab has pamphlets for those having trouble with documentation formats, such as MLA, citing sources and maintaining academic integrity.
Tutors in the lab are always on hand to offer assistance either in person or online, to help students with correct documentation, Communications Lab Tutor Nick Webb said.
The Communications Lab, located on the first floor of the main campus near the Coffee Shop, is open from 8 a.m. to 9 p.m. Monday through Thursday, 9 a.m. until 3 p.m. on Friday and 10:30 a.m. until 2:30 p.m. Saturday.
The Communications Lab also can be found on Facebook at facebook.com/commlab.
Have you ever plagiarized? Vote in our latest poll here.