Pioneer Online undergoes major redesign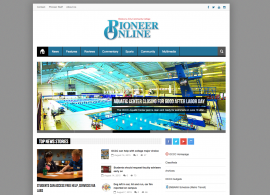 Packed with streamlined panels that promote videos, podcasts and the latest campus news, the Pioneer's new website went live Wednesday, Aug. 5.
Pioneer Webmaster Amar Molinas and former Assistant Lab Director Ted Satterfield started working on the website redesign in April.
Satterfield said he and Pioneer Lab Director Ronna Austin felt the former site was outdated. Among other things, it wasn't mobile-friendly and listening to podcasts could be difficult, depending on the Internet browser used, he said.
"We couldn't embed YouTube videos without going through a ridiculous process."
Satterfield said the biggest decision he and Austin made was to move from the content-management system Joomla to WordPress.
He said he had used WordPress in the past and found it to be more user-friendly as well as a format where more images could be used.
"I think it's important to have multimedia," Satterfield said. "I think that's what readers and viewers expect now — not just text.
"They want photos and videos, infographics — things like that. I think it's important to have a variety of media."
Molinas, a computer science major, joined the team when it came time to actually start building the new site.
He said when he and Satterfield began actual development of the new site, they were faced with the daunting task of transferring more than 4,000 stories from the old site to the new one — a task that Molinas said was huge both technically and logistically.
Satterfield agreed.
"We wanted everything that was on the Joomla site to be on the WordPress site," he said.  "Doing that migration was probably the biggest hurdle we had."
Despite that, Molinas said, he was happy to make the move. He said posting material on the old site was a messy process and certain features didn't always function correctly.
"Google Analytics didn't work so we couldn't get the best information about who was actually visiting the site."
Satterfield said although readers now have access to more, the display is not as cluttered.
"We have things set up according to category in a visually appealing way so that people can find things they are looking for," he said. "We have a lot more sections than we did before."
And, Molinas said, after a lot of tweaking, the new design also is mobile-friendly, as planned.
"The whole way that websites are designed now —  like in the last five years — it's really gone from websites being designed for desktop PCs or maybe laptops, to websites being designed primarily for your phone," he said. "This design is much better — it's able to handle that."
Monica Gordon, political science major, said she had visited the former Pioneer website and felt it looked like a typical newspaper website.
"The [print newspaper] had better art — better pictures — so that's the one I went with more often," she said.
Satterfield said alhough the site is up, there will likely be bugs to fix as the semester progresses.
"When we finally went live, [Amar] pulled it up on his phone and the banner was messed up," Satterfield said.
"It's kind of funny because you look at it on the screen and it looks like it's adapting nicely but then it was messed up on the phone."
Molinas said, when developing software, it looks the same across most devices. But when it comes to websites, it's a different story.
"Because you're using different web browsers to look at pages, you never know for sure that you've got everybody seeing exactly what you're seeing, no matter how hard you work," he said. "That's a major engineering hurdle for websites."
Satterfield and Molinas have pulled up the new website on various browsers and devices, such as the iPhone, iMac, laptop and Android tablet.
"Now it's made for adapting to every device," Satterfield said. "I think the tablet view actually looks the best in my opinion."
To see the new look, plus get the latest news updates, read reviews and catch community events, visit www.pioneer.occc.edu.