Phi Theta Kappa and adviser wrack up awards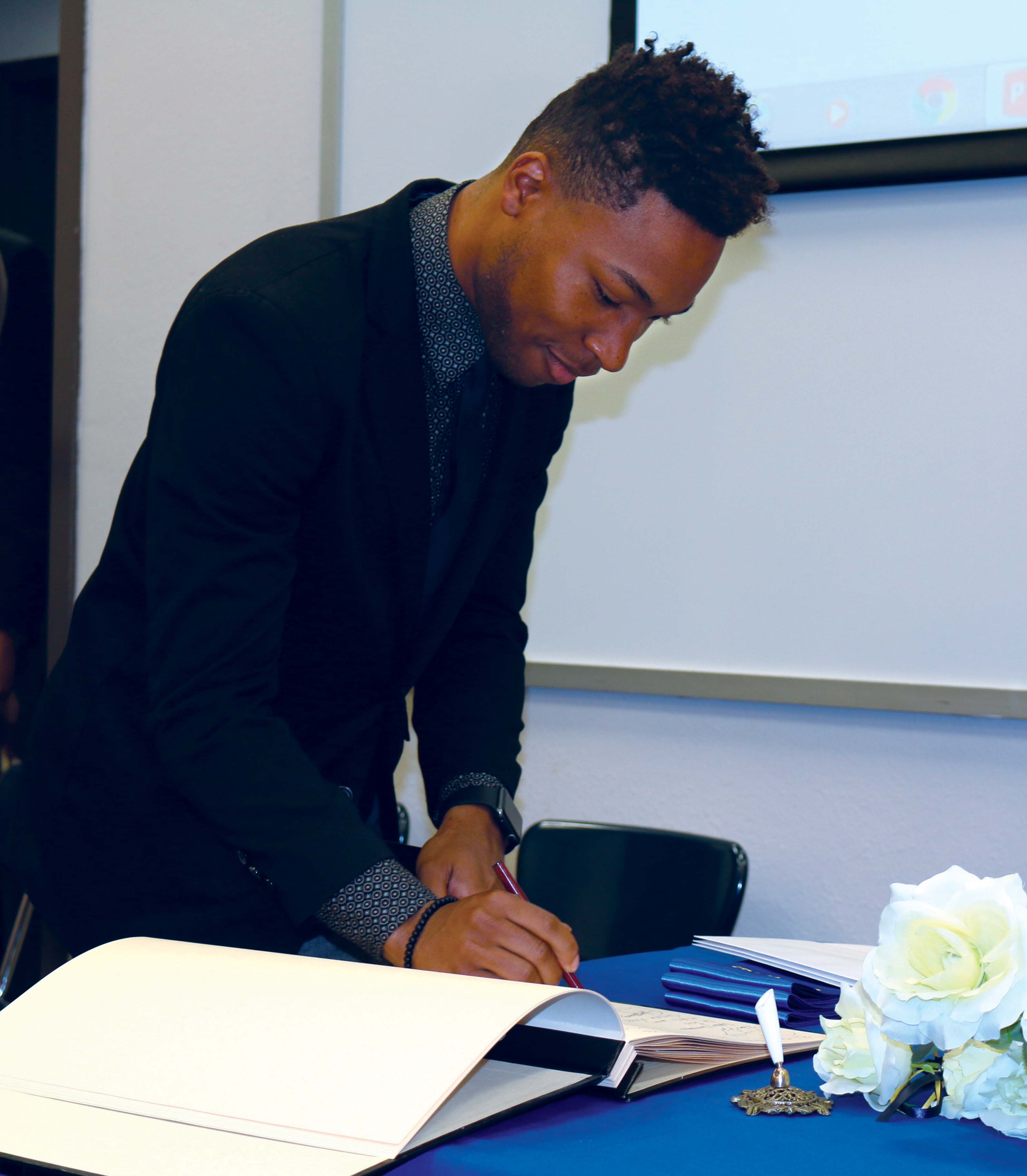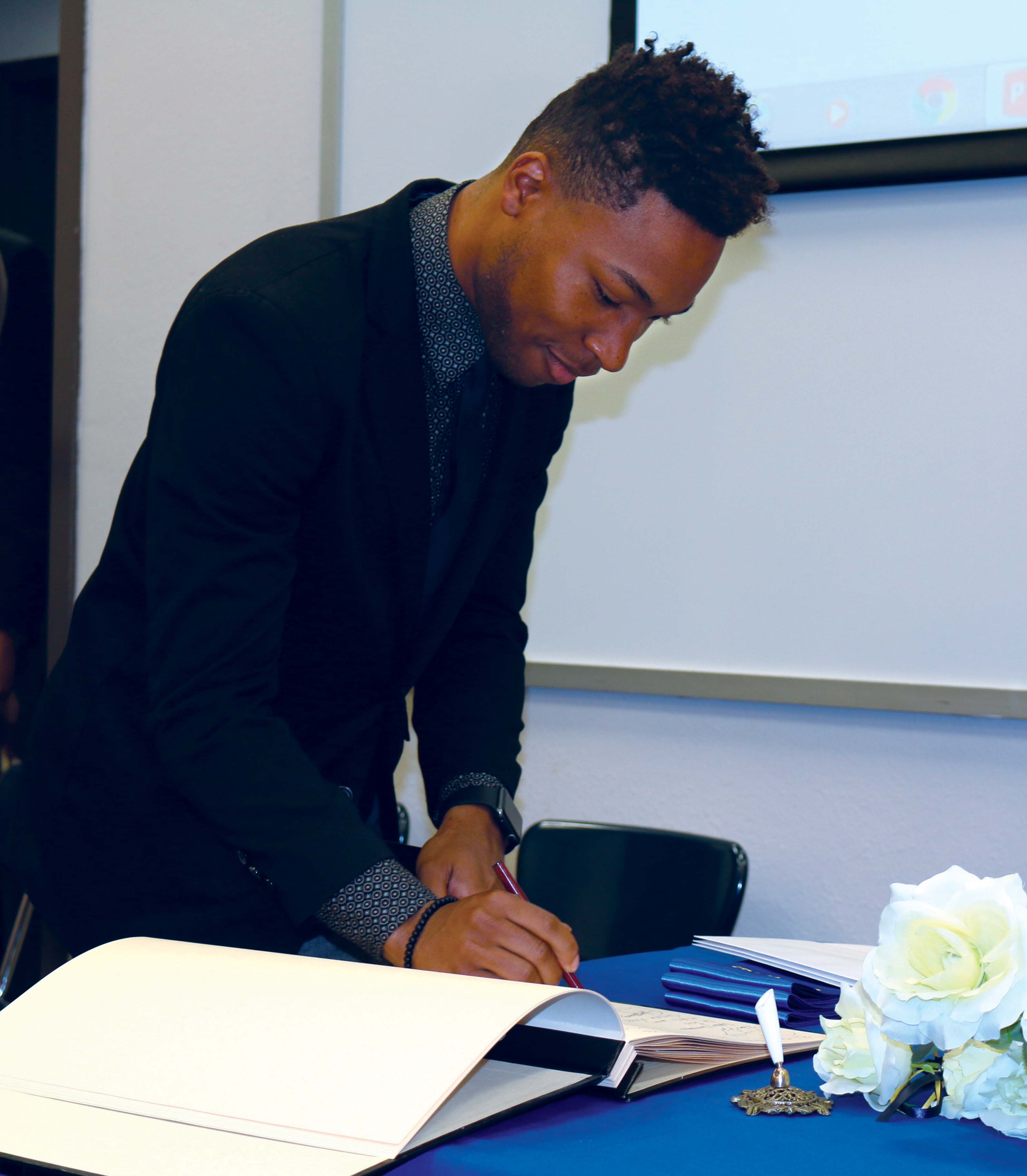 OCCC's Phi Theta Kappa chapter, Alpah Theta Alpha won seven awards, including the 2016 Distinguished Chapter Award Top Five at the Oklahoma Arkansas Regional Convention in Little Rock, Arkansas ,earlier this semester.
Throughout the semester, officers and members work on projects to support the college's mission, the community, and individual growth of each member.
PTK member Jana Smith, allied health major, said working on the community project taught her valuable researching methods and gave her the opportunity to gain public speaking skills.
Last year, officers and members researched the medical benefits and harmful effects of the cannabis plant, said Professor Charles Myrick, the chapter's faculty adviser. The findings were then shared with the community through an open forum.
For the college project, Phi Theta Kappa partnered with OCCC's peer mentor program to recruit new members, Myrick said. The chapter won the 2016 College Project Hallmark Award Top Five.
Phi Theta Kappa and its members are scheduled to meet with President Jerry Steward later this month to discuss this year's campus project, Myrick said.
Phi Theta Kappa is organized into three levels, local, regional and international, Myrick said.
On the Oklahoma Arkansas regional level, the OCCC Phi Theta Kappa chapter has been the largest chapter in the region most years, Myrick said.
Since the beginning of the Spring semester, 105 new members have joined the group of elites on campus.
Club President Kyle Holt and management information systems major, said the goal this semester has been to grow the membership of the club.
"I think we've been successful because even in our meetings our attendance has tripled," Holt said. "Last year we averaged five to eight people in a meeting, and this semester we're averaging 20 people.
"We're more than just an email. It's a group of people on campus ready to make a difference," Holt said.
At the regional convention, OCCC's chapter also won Five Star Chapter Plan, 2016 Distinguished Chapter Officer Team Award, 2016 Distinguished Chapter Advisor Award, Certificate of Participation Oklahoma C4 and 2016 Honors in Action Hallmark Top Five Award.
Business major Kristia Clark said she ran for regional vice president for the western division at the Little Rock regional convention.
REAGAN HAYES
News Writing StudentBusiness Professor Charles Myrick accepted an international award in Washington D.C. on April 8 for his role as an adviser in Phi Theta Kappa.
"We were competing against thousands of chapters," Myrick exclaimed. "I honestly did not know if I was even going to get recognized."
Myrick was nominated by members of Alpha Theta Alpha, which often is ranked among the top five in the region.
Dating back to 1918, PTK is the largest honor society in the world for higher education, Myrick said. Roughly 5,000 students have joined since OCCC initiated the program in 1984.
"[Charles Myrick] inspires us to lead and do everything on our own," said Kyle Holt, PTK president. "He encourages the organization to be student run and instructs us when we seek out help."
PTK member Linus Morgan said Myrick truly deserves this award.
"He always makes himself available to his students," Morgan said.
As a professor of economics and the PTK adviser, Myrick juggles many responsibilities. Myrick said the hardest part of being so involved is when he has to cut into his sleep schedule to get it all done.
Myrick talked about his favorite aspect of being an adviser.
"I like seeing students succeed where they did not think that they could," he said.
For more information about Phi Theta Kappa membership, contact Myrick by email at cmyrick@occc.edu or call 405-682-1611 ext 7492.
Although she didn't win, Cook said, she gained interpersonal skills while she and other OCCC students developed ideas for her campaign.
Phi Theta Kappa prepares members for the workforce but it's also an organization that provides fellowship and the opportunity to meet dynamic people, Clark said.
"I've met many friends, my network is huge now," Clark said. "Whenever I first joined PTK and started attending meetings, I became friends with Natalie Fleming, former PTK president and we are still close today."
Clark said she also attended the international conference held in Washington, D.C. earlier this month where Myrick was among 15 distinguished advisers around the world recognized with the Distinguished Chapter Advisor Award.
The officer team nominated Myrick for the award, Clark said. Myrick teaches business and economics.
"He's not just been there as a faculty adviser or a professor, but he's been emotionally there for us, mentally there for us, and he has pushed us to get us where we need to go," Clark said on her reasons for nominating the professor.
Myrick said that after he accepted his award, a former student paid him one of the nicest compliments he's ever been given.
"She said to me, I am so jealous of your chapter that they get to hang out with you everyday."
Myrick said there is a family atmosphere within the Phi Theta Kappa group on campus.
"I like the non-selfish caring attitude that's often associated with Phi Theta Kappa."
Students must meet two requirements before receiving an invitation to join the organization; the student must have a 3.5 grade point average or above and have completed 12 credit hours.
After being invited, the student must pay a one time fee, Myrick said.
"A lot of students think it's a scam but it's not," he said. "It's an opportunity to get involved, meet new people, and apply for scholarships,"
Smith said she encourages those invited to join.
"I was nervous to meet people and didn't know what to expect but I would encourage others to go for it," she said. "Join, go to a meeting and see if you like it."
"It really helped me, gave me resources, and it has bettered my educational experience at OCCC."
Phi Theta Kappa is the largest honor society for higher education for top academic performers around the world, Myrick said.