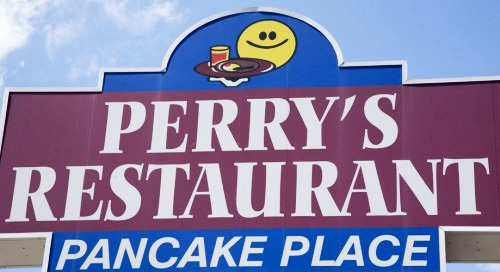 Students looking for a quick meal or quiet place to study in between classes may want to check out Perry's Diner.
Open 24/7 and located across the street from campus at SW 74th and May, Perry's offers a good quality meal at an affordable price.
A friend introduced me to Perry's a few weeks ago after I mentioned I had nothing to do before my 5:30 p.m. class. She suggested we go grab dinner. I was a little hesitant about going to a sit-down restaurant with only 45 minutes before my class but agreed to go.
I was pleasantly surprised at the service we received.
The staff was friendly and we received our food within 10 to 15 minutes of ordering. Not only did we get excellent service, the food was reasonably priced. I received an entrée, two sides, a salad and dinner roll all for under $10. The portion sizes were nearly enough for two people.
After paying, I made my way back to school full and satisfied with five minutes to spare.
Surprisingly, there weren't a lot of younger people there. Just from my observation, it was obvious a lot of people come there often and it appears the staff really get to know customers on an individual basis.
The restaurant was not too crowded or loud, making it the perfect place to have a conversation with my friend while we ate.
Ever since I went for the first time a few weeks ago, my friend and I have made it a weekly tradition every Thursday before my class.
With its great food and convenient location, I am surprised more students don't go there.
Next time you think about grabbing a burger before class, I suggest you try Perry's instead.
—Erin Peden
Staff Writer
To contact Erin Peden, email staffwriter1@occc.edu.