Parking as easy as following rules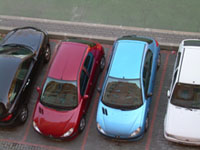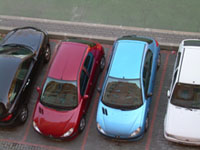 It is one of the most basic questions for any driver. "Where am I going to park?"
Major Keith Bourque, Safety and Security coordinator at OCCC, said there are 3,170 parking spaces including handicap spaces on campus.
"Students can park in any of the yellow double parallel lines," Bourque said, indicating the regular spaces as opposed to the white handicapped spaces, the blue faculty spaces and red fire lanes.
The Campus Traffic and Parking Regulations brochure available on the campus security webpage states that students who park in faculty or employee parking spaces may be fined $15. A fine of $100 will be imposed on students who park in a handicapped spot or in a fire lane. They also may face fines from Oklahoma City.
The same brochure states that free parking decals can be obtained from the Records and Graduation Services front counter with possible fines of $5 for not having the decal and $3 for improperly affixing it.
Bourque said there are just a few basic rules to getting a good parking spot.
"The first two weeks are extremely busy so come early," Bourque said. "Parking lots A, B and C fill up first so it is generally easier to park in the back."
Bourque said he doesn't foresee any slow downs due to the construction of the new John Massey Center and the theater.
"I don't know of anything that would affect parking," he said. "But, with two large construction projects, at any point, a semi could be blocking parking."
Bourque suggested using lots D, E and F on the west side, which reflects the advice that Lori Colbert, music major, had.
"It doesn't matter where you park," Colbert said. "Once you get in the building you can get to anywhere else in the building in five minutes."
There also are repercussions to improper parking.
"Handicap parking is by state-issued permit only," Bourque said.
"The city will issue tickets for parking in the handicap spaces or fire lane and faculty spaces are also monitored and ticketed."
For more information, stop by the Campus Police department located on the first floor of the Main Building or visit www.occc.edu/Security.
To contact Mike Wormley, email onlinewriter@occc.edu.