Parents can attend college and have a job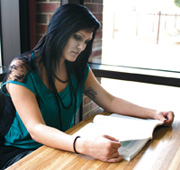 Chris James/Pioneer
Nursing major, Britney Morrow, 26, studies in the Arts and Humanities lobby on Feb. 2. Morrow is a single mother who juggles work and parenting while attending class at OCCC.
Time management has always been a constant pressure that students face while attending college. Research papers, midterms, and homework are the typical scenarios for students.
Add on parenting, full-time work, or a social life to these academic pressures and you have created quite the challenge for what some might consider a "nontraditional student."
Millions of adults return to college to earn a degree, and the added responsibilities of adulthood compromise any extra social or personal time needed outside of work and school.
Single parent and OCCC nursing student Britney Morrow understands this all too well.
"Last semester I took two online classes. With kids, you have to incorporate your entire schedule around them, so it made it easy to work it all out."
Morrow says the key to balancing a busy lifestyle is prioritization.
"My family comes first and foremost. So if a kid is sick, homework has to wait. And I can't neglect my job because that puts food on the table."
Online classes and on campus daycare have certainly eased the burden on those attending college who have a busy schedule, but a broader set of options are also available to students.
Morrow said she appreciates the late hours the professors and learning labs offer.
"Extended office hours help because once I get off work and get the kids, I can still make it up to the campus in time to take care of what I need to," Morrow said.
Often students find that there is a sacrifice to be made with their social and personal needs outside of school.
Kylee Jones, a 2011 graduate of OCCC, found that reducing certain luxury expenses required fewer hours she needed to work.
Freed up time meant more opportunities to take classes, study, and learn. And with careful time management, a social life existed as well.
"I'm also very driven, so by prioritizing efficiently it made it possible for me to still work full-time, take college courses, and keep a fun social life."
She believes that anyone can go to college if they really want to, regardless of circumstances.
"Figure out a good schedule that works for you, and stick to it," Jones said.
"Being organized and managing stress helps even if your schedule is not very flexible."
Not everyone is fortunate enough to have the financial resources to attend college.
Even those who rely on financial aid are still seeking a college education with a full-time or part-time job.
Those interested in applying for Financial Aid can apply anytime, but students should complete a Free Application for Federal Student Aid (FAFSA) by March 15, 2012 in order to get the best chance at receiving funds.
For more information regarding Student Support Services, the number is 405-682-7520.
To contact Casey R. Akard, email pioneervideo@occc.edu.