Paramedic graduate gives EMS department high marks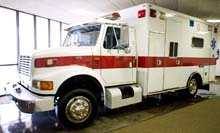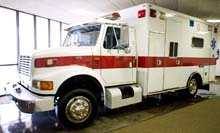 OCCC has one of the best Emergency Medi­cal Science departments in the state, said Zach Davis, who graduated from the program in December as a paramedic.
He said those interested in becoming a fire­fighter, paramedic, or anything else in the EMS field should look into the program.
Davis said the training was "very good." Although he did not have a job in the EMS field prior to graduation, he now works for an ambulance service.
OCCC's EMS Department Director Ron Feller has 30 years of experience in the field. He has been running the department full-time for a year.
Feller said students spend about 40 percent of their training time in labs where they have all types of training equipment and exercises to help them learn. These lab tools range from high fidelity mannequins that do the same thing that a human would do to new equipment to practice getting trapped people out of a car, he said.
The department also has a decommissioned ambulance parked in the hallway outside of the lab which they use for simulations purposes, Feller said.
EMS students practice by putting simulated patients —other students — on a gurney and into the ambu­lance where they work on them until the instructor says the ambulance has arrived at the hospital.
The EMS department offers four levels of training: Emergency Medical Responder, Emergency Medical Technician, Advanced Emergency Medical Techni­cian, and Paramedic, Feller said.
He said each step will build off the one before.
Feller said EMRs can offer basic first aid while EMTs can do oxygen administration and some minor medications.
Advanced EMTs can provide intravenous therapy, advanced airway skills and first-line cardiac medica­tions, he said.
Paramedics can do more advanced medications and airway treatment. A paramedic is basically a "doc in a box," Feller said.
Paramedics practice under the licence of an emer­gency room physician, he said.
Everything a doctor will do for a patient at the emergency room, the paramedic will do to the patient until they can get to the doctor.
Feller said there are approximately 200 students in the program. Most find jobs with ambulance services after graduating, he said. Fourteen gradu­ating students in December were employed prior to graduating.
"OCCC EMS students are some of the most sought after paramedics in the state," Feller said.
Before being the head of the EMS department at OCCC, Feller worked for the University of Oklahoma Health Science Center in EMS for children and spent 20 years in the Air Force as a medic.
Feller has worked in hospital emergency rooms, intensive care units, and medical surgical units.
He also worked for EMSTAT, an ambulance com­pany in Norman and started teaching while he was in the military.
Feller said he got hooked on teaching after vol­unteering to teach one class because of his fear of speaking in front of individuals.
Feller said he now spends about three hours a week in the classroom, and said he substitutes quite a bit.
There is no teaching requirement for his position so the majority of his time is spent as an administrator.
Feller can be contacted at 405-682-1611, ext. 7343.
To contact Jaron Spor,email onlineeditor@occc.edu