Outstanding OTA prof urges students to 'never give up'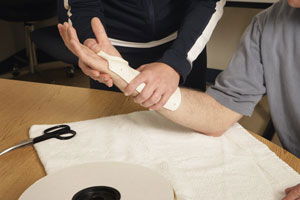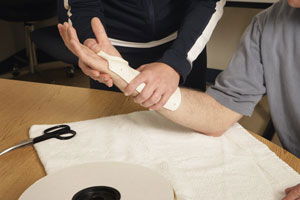 Growing up, Professor Fonda D. Scott said, she knew she either wanted to teach or to work in the health field.
"The cool thing is that I was lucky enough to do both," Scott said.
After 16 years of teaching, Scott received an Outstanding Adjunct Faculty Award this year. She is 39.
In her day job, she is a certified Occupational Therapy Assistant. An OTA helps patients with physical or mental limitations become comfortable with the independent lifestyle again. Scott works at the Rely on Rehab facility in Norman.
She received her associate degree at OCCC and her bachelor's in Liberal Studies at the University of Oklahoma.
She described her entire education and professional experience as "worthwhile."
"After having children I wanted to do something different, so I decided to go into teaching," Scott said.
It was easy for Scott to decide where she wanted to teach.
"My loyalty is with OCCC," she said. "I graduated from the program; therefore, I wanted to teach in the program."
Scott began teaching at OCCC in 1995. She teaches OTA: Occupation Performance Leisure, Occupation Performance of Activities and Daily Living, Occupation Performance Service Skills, as well as assists other professors with courses.
Her students commented on Scott as a teacher.
"Professor Scott was the reason why I started this program," said student Valerie Jones. "I met her through Boy Scouts and she introduced me to the program.
"She engages the class, is always open to discussion, and has a very good sense of humor," Jones said.
"Most of tests are application-based versus multiple choice," Jones said. "It allows us to understand more that just know. This is not a memorization program."
Student Jordyn Shrewsbury praised Scott for her patience.
"She doesn't teach over our heads," Shrewsbury said. "You can ask her a million questions and she will still answer and explain over and over. But, when she assigns reading, make sure you always read.
"She is always available to you. You are able to text or call her at home, anytime."
After a long week of practicing and teaching, Scott's fun does not end. She has been married for 18 years, has two boys, ages 11 and 7, and a golden retriever.
"I love to do arts and craft as well as participate in Boy Scouts and Cub Scouts with my sons," Scott said.
In five years, Scott said, she sees herself continuing her teaching at OCCC with a master's degree in education.
Scott said she tells her students to always study and believe in themselves and never give up.
To contact Aerial Reynolds, email onlineeditor@occc.edu.