'Osage' play to feature OCCC staff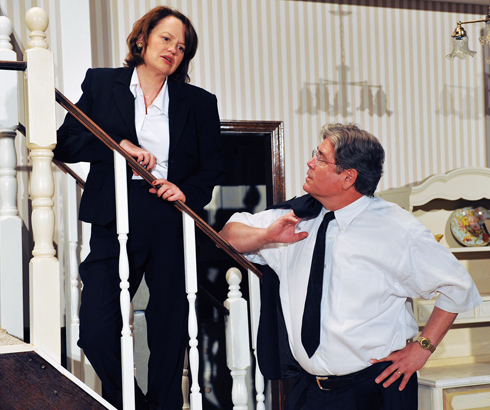 Courtesy Wendy Mutz/MutzPhotography.com
OCCC Communication and the Arts Department Director Ruth Charnay and adjunct Professor Rick Lippert rehearse for their upcoming roles in "August: Osage County."
OCCC's own Ruth Charnay and Rick Lippert will take the stage as two of the sanest characters in a houseful of crazy relatives when the dark comedy "August: Osage County" premieres at the Oklahoma City Repertory Theater on Oct. 7 and runs through Oct. 10.
Charnay works fulltime as department director of Communications and the Arts in the Arts and Humanities Division.
Her character in the play is Ivy, the quiet librarian who stayed close to home. She is the family caregiver in the Pulitzer Prize-winning play by Oklahoma playwright Tracy Letts.
Ivy is the middle sister of the family and is in charge of taking care of her disturbed mother.
Also performing in the play is OCCC adjunct professor Rick Lippert, in the role of Uncle Charlie. Lippert teaches Video Production and Acting for the Camera.
He describes his character as having "more heart than anyone else in the play."
Charnay said the biggest challenge in balancing a full-time job with a major theatrical production has been finding the time to memorize her part.
"The older I get, the more time it takes learning my lines."
Lippert said he too feels it is harder to memorize lines than it used to be.
The two spend their weekends with the cast preparing for opening night and both have several techniques for learning lines.
Charnay said she finds herself waiting in line at the store and practicing her script, or playing back recordings in her car.
Lippert also tapes the acts and replays them as well, going through the whole scene.
"It is important to not only know about your life but also you have to know everyone's life," he said.
The R-rated play tells a dramatic story of a highly dysfunctional family. It takes place in modern day Oklahoma. The play tells the story of middle-class family members willing to do anything to make one another miserable after the household patriarch mysteriously disappears.
Charnay, one of the founding members of the Oklahoma City Repertory, said she has been engaged in theater since she was a child. Theater has been one of her life-long passions.
She siad her colleagues have supported her in this project.
"I love the fact that the people I work with at OCCC also enjoy the arts," she said.
"It is wonderful to be in a place that is so supportive."
Lippert said he has been doing theater all of his adult life. Being in such a major American work "is a fantasy come true," he said.
Seeing the play on Broadway in New York two years ago was a powerful experience, Lippert said.
"It blew me away and I knew that I had just seen the best play of my lifetime," he said. "Never in my wildest dreams did I think I would be in the cast of the first regional equity production."
Charnay and Lippert urge everyone to attend.
"The production will be fabulous," Charnay said. She warns the play contains adult language. "So if you're easily offended, then it's not for you."
Tickets are on sale at www.cityrep.com or at the theater's box office located on 201 N Walker in Oklahoma City.
Tickets are $8 for students with a student identification card. General admission tickets are $30 for evening performances and $25 for the matinee on Sunday.