Online guidance toward graduation available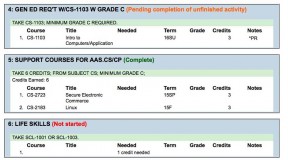 Some OCCC students who are approaching graduation have never seen their degree evaluation, said Jill Lindblad, director of Graduation, Employment, and Transfer Services. As a result, they may not know how close they are to finishing — or what requirements they have left to complete.
The Degree Progress feature is on every student's MineOnline account, Lindblad said. Found in the Academic Planning section of MineOnline, this program shows students their current status in the pursuit of a degree in their respective major.
"They may not even know that that's a tool they could use to see how close they are to completing [their degree]," Lindblad said.
One reason some students may not use this program is they may still be undecided on their major. Lindblad said Degree Progress can benefit those people as well because it allows users to view their status on any program of study. Students can plug in any of the majors they might be contemplating, and see what would be required to finish a degree in those fields.
An unscientific query of students proved Lindblad right. Many had never taken advantage of Degree Progress.
"I do not know what that is…. I've never used it before," said student Suhas Gowda when he was asked if he used Degree Progress. "It would definitely help."
Another student, Seth Carlson, said, "I was told about it and I looked at it once but that's about it."
With the semester nearing its end, it's a good time for students to review their status in Degree Progress before signing up for summer and fall classes to be sure they are on track to graduate.
"The earlier the better is just usually what I say," Lindblad said, advising students to apply early for graduation.