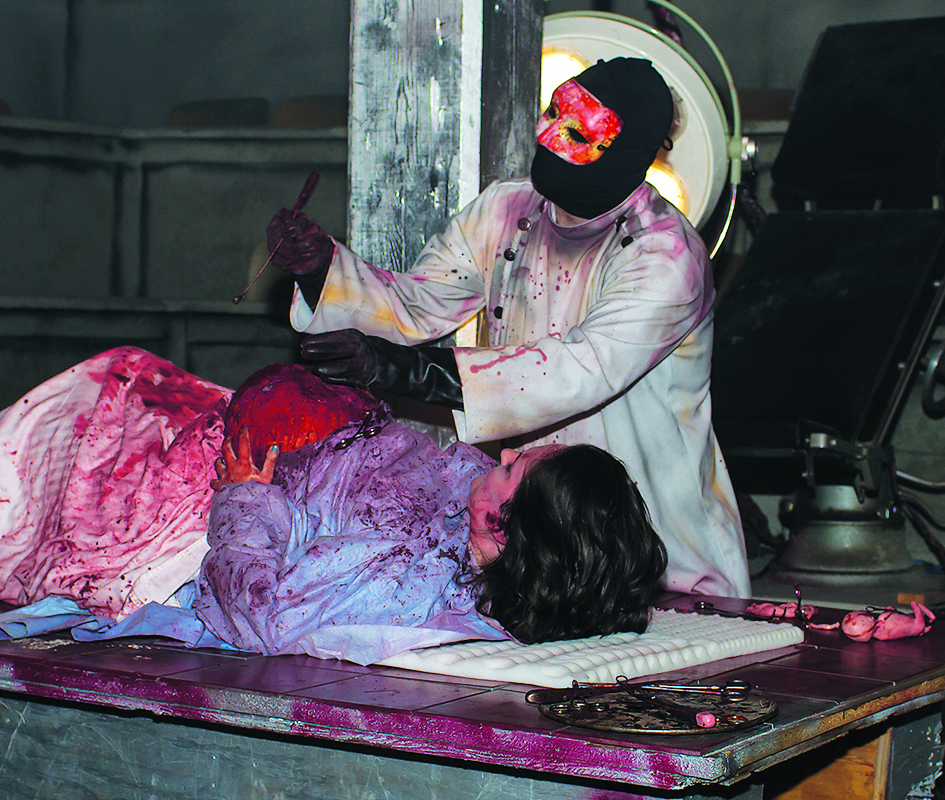 The Sanctuary is an awesome new addition to haunted houses in the Oklahoma City downtown area. The Sanctuary occupies three floors of a once-abandoned building that was originally built as a tractor factory in 1913.
Owners Tino and Cathleen Pascuzzi have created a terrifying experience based on a movie script written by Tino. The plot involves a mad doctor in an insane asylum.
The Pascuzzis have put a lot of money, time and effort into converting the old structure into an elaborate labyrinth of terror. It becomes apparent in the design and decoration of the interior as you venture through the dark twists and turns.
The set features places like a reception area, operating rooms, a dining hall, a lockdown area and even a creepy chapel.
On a busy night like Friday or Saturday, The Sanctuary features more than 70 actors who jump out of hidden places, perform demented operations on screaming patients, and do their best to evoke urination and self-defecation.
In fact, Tino said, at least two people have already been confirmed to have wet themselves and one guy actually made a little bigger mess in his pants.
Saturday is by far the busiest night and with good reason. On Saturday, The Captain's Sideshow pays a visit to The Sanctuary from 8 to 11 p.m. with acts that are not for the squeamish. They do things like walk on broken glass, close animal traps on themselves and let people staple dollar bills to their faces with staple guns.
The Captain's Sideshow is accompanied by Sick Boyz Suspension. They hang themselves and each other from hooks in the ceiling. The two groups captivate haunted house goers as they await their turn to enter the upper floors of the haunt proper.
For the final week, promotion admission is $18 for general admission and $29 for VIP access. VIP gets you to the front of the line. On a busy night like Saturday, it's worth it.
The Sanctuary is located at 530 S Broadway Ave. in downtown Oklahoma City. It is open from 7 p.m. to midnight from Oct. 25 to Halloween night and from 7 to 11:30 p.m. on Nov. 2 and 3 for a lights-out event that is promised to be a completely new experience.
Rating: A