Oklahoma City welcomes Women's March for Second Year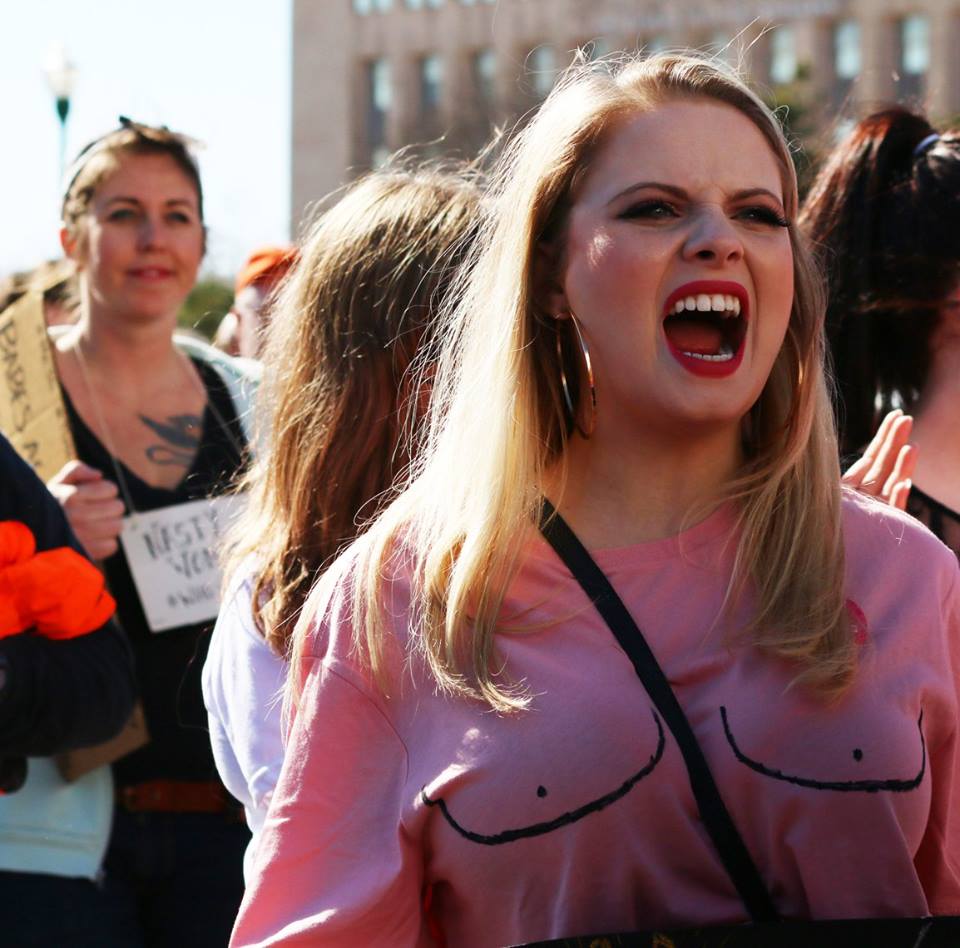 On January 20th 2017, the U.S. shifted. President Donald Trump was elected into the White House, and half the nation sat devastated. A Women's March was initiated around the world to protest the president elect, and what he may bring. Women, men, and children made signs and marched to show their pride in support of each other, and their thoughts for their new president.
    A year later, this has become a tradition.
      On Saturday January 20th, 2018, hundreds gathered in pink, with home-made signs. People of all genders and sexualities surrounded the front of the Oklahoma State Capitol.
      "I feel like it's really great to see that there is a ton of people still showing up in support of the cause even though its a year later," Serena, who chose not to release her last name, said. "It's not as big, or hasn't been broadcasted as much, but there's still a ton of people here, and it's great to see that."
      With crowds roaring, senator Connie Johnson made an appearance to wish off the people as they prepared for the march.
      "Let's make noise for the women in Oklahoma, and the men who love us!" Johnson shouted.  
      "Yes I'm running for Governor, but I am here today as a WOMAN and it is time that our voices be heard because we know who we are," she said.
      "Who are we today Oklahoma women? We are strong, we are united, we are here today to march and to show our pride and to make our voices heard. Why? Why are we here today? We are here for justice. For social justice, equal justice, for equal rights for women."
      As Johnson finished her speech, the crowd gathered with excited cheers, lining Lincoln street with signs held high.
      Groups of teenage girls proudly stood next to each other laughing in excitement. Senior couples held hands as they found their spot in line smiling lovingly. Families of all ages in bright pink chanted as the march began.
       Educators were found within the protests.
      "One of my favorite signs here is the simplest one, 'Trust Women'," said 10th grade educator Corinne, who also did not release her last name, said. "I want to see more women in powerful positions." Corinne teaches on the southside of Oklahoma City and is passionate about her students and the education they receive.
      She is at the march to not only support other women, but to protest the educational budget crisis Oklahoma is currently facing.
      "I want Oklahoma to care about public education. My library has flooded  twice in the last two weeks — the pipes have completely flooded the library below," she said.
       Corinne said her school's library has been denied $20,000 two years in a row to buy new books.
      "It's ridiculous. I'm sitting here watching my students getting rained on," she said.
       While Corinne is one of many educators fighting for a better system, others were found at the march hoping to inspire one another.
       "It's exciting to see the people who hopefully think partly like me," said Sarah Moore.
      "It brings confidence in your own thoughts, and that also there are more people [out there]," she said. "With that confidence you can go out into your community that exists and make a change."
      When the protest came to a close by late afternoon, women and their families left with one common cause — making a difference in each other, and in their state.