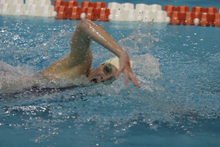 The Bison from Oklahoma Baptist University in Shawnee claimed the national championship in the men's division of NAIA Swimming and Diving meet at OCCC the first weekend in March.
It was the first year for the Bison to enter the contest. Oklahoma Baptist was the only Oklahoma college competing.
The Bison won first place in the men's 400-yard freestyle relay with a meet record of 2.57.83 to clinch first place.
The win helped the Bison come from their second place position to gain a five-point lead over the Fresno Pacific Sunbirds with a final score of 757 points.
OBU head coach Sam Freas said he was impressed with how the team had done its first year,
"It was all in the athletes," he said. "They were committed to win."
Concordia University of Irvine, Calif., took third place for the men with a score of 574.5 points.
The Fresno Pacific Sunbirds women's team dominated the competition with 780 points, a lead of over 200 points, in the women's division of the Swimming and Diving National Championships.
The OBU women came in second with a score of 578 points, with the Savannah College of Art and Design in Georgia following with a score of 468 points.
It was a weekend of success for many athletes who broke 21 national event records during the championships. The Sunbirds beat the NAIA championship record set in 2009 by over a second in the men's 400-yard medley relay. The Sunbirds swam a 3.15.27 and the championship record was 3.16.49.
Paul-Bernar Mary-Rose, who swam the last leg of the 400 medley for the Sunbirds, also went on to win the men's 100-yard freestyle and set a new NAIA record. The previous record was 44.33 and he swam a 44.31.
Cheyenne Coffman beat the championship record in the women's 200-yard backstroke for the Sunbirds by over four seconds. She swam an astonishing 1.58 seconds while the previous record was 2.63.
For more information on the championship, visit www.NAIA.org or www.occc.edu.
To contact Nicholas Moyer, email onlineeditor@occc.edu.