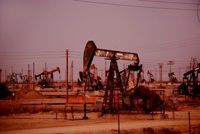 Safety awareness classes for the oil and gas industry are hard to find but are now accessible at OCCC.
"We are primarily answering a demand with these classes," said Corporate Learning Consultant John Claybon.
"Employees are often working around wellsites, oil rigs and exploratory surfaces that they have to utilize in the field," Claybon said. "So, safety awareness is something the industry is very concerned with."
There are more than 25 class topics, including Incident Reporting and Investigation, Accident Prevention, Material Handling and Hazard Communications.
This fairly new curriculum, approved by SafeLand USA and the Energy Training Council (ETC) of Oklahoma, has been in effect since May. Sponsored by several large energy companies such as Devon, Chesapeake Energy and ConocoPhillips, the program is standard yet quicker than the norm.
Designed specifically for the oil and gas industry, the awareness non-credit classes are also consistent with Environmental Health and Safety (EH&S), recognized by multiple organizations. Provided class information will help increase employee competency, reducing employer liability costs.
Classes are offered twice a month, once in English and once in Spanish, by certified instructors. Upcoming dates include Wednesday, Aug. 8 in Spanish, Wednesday, Aug. 22 in English and more throughout the fall.
Classes take place from 8 a.m. to 6:30 p.m. in a single-day format on the fourth floor of the OCCC Library.
"Upon successful completion, a certified card is awarded, which also enters names and pictures into a national database," Claybon said. "So, as employees go out to actual drilling sites, the cards verify the safety awareness experience which is becoming more and more a requirement."
Open to the public, classes are $150 each. There also are group discounts available.
Two forms of IDs are required. And, because of the rapid pace, seating is limited to only about 15 vacant spots per class.
"Classes fill up fast," Claybon said. "In fact, a lot of times there are waiting lists because of how big of a big deal this is," Claybon said. "So far, the awareness classes are being received extremely well."
For enrollment, specific pricing and other information, contact Claybon at 405-682-7855, or email jclaybon@occc.edu.
To contact Nadia J. Enchassi, email onlineeditor@occc.edu.