OCCC walkers raise nearly $1,000 for Alzheimer's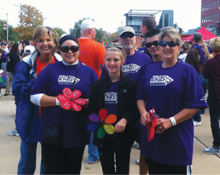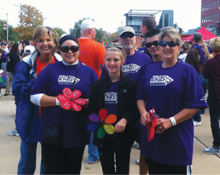 Photo provided by Lisa Teel
Ten OCCC faculty, staff, and family members participated in the event, raising $960 for the cause.
The Walk to End Alzheimer's on Sept. 17 was an overwhelming success, said Lisa Teel, Emergency Planning and Risk Management director.
Teel said the walk is the country's most recognizable event that increases awareness for Alzheimer's care, support and research.
Millions have participated in the walk since its 1989 inception, according to the Alzheimer's Association website at www.alz.org.
Ten OCCC faculty, staff and family members added to that number when they participated in the walk.
"Our goal was to raise $1,000 and we were very close at $960," Teel said.
The team contributed to the $158,900 raised by the near 2,000 walkers in Oklahoma City.
The two-mile walk was held in Oklahoma City at the Bricktown Ballpark.
In the 22 years the Alzheimer's Association has been established, annual events in nearly 600 communities have raised more than $347 million for the cause, according to the website.
Teel said a major motivation to walk was to help educate the public about the disease, which affects 5.4 million Americans.
Alzheimer's is the sixth-highest cause of death in the U.S., according to the association.
Teel said her reason for joining the team and participating in the event was because her mom was recently diagnosed with Alzheimer's.
"Seeing what it does and how it affects people is reason enough," she said.
Alzheimer's it is a disease that interferes with a person's memory and is the most common form of dementia, accounting for nearly 50 to 80 percent of all dementia cases.
Although it affects one in every eight persons aged 65 or over, 200,000 Americans are affected by an early onset of the disease.
By 2050, the association estimates as many as 16 million Americans will have Alzheimer's.
For more information or if you want to pledge money to the Alzheimer's Association, visit www.alz.org.
The next metro Alzheimer's Association event, A Masque in Black and White Gala, will be held March 1, 2012, at the Skirvin in Oklahoma City.
To contact Priscilla Colley,
email staffwriter1@occc.edu
To contact Sarah Hussain,
email staffwriter3@occc.edu