OCCC vice president inducted into hall of fame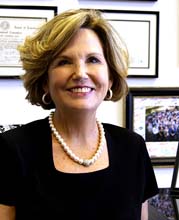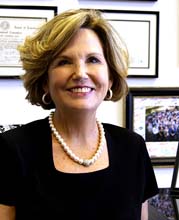 Marion Paden's parents picked her up from Will Rogers World Airport and dropped her off at the front door of South Oklahoma City Junior College.
Paden was living in Texas at the time and working for Navarro College in Corsicana, Texas, as the Student Life Director, but decided it was time to apply for a job in Oklahoma.
Now, 32 years later, Paden is the Enrollment and Student Services vice president and longest serving Chief Student Affairs Officer in the state.
Every day, she looks out her office windows that were once the doors she walked in when she first applied at OCCC.
On April 7, Paden became the first woman from OCCC to be inducted into the Oklahoma Women's Hall of Fame.
OCCC President Paul Sechrist nominated Paden for her contributions to the campus and the community.
"I was honored to recommend Dr. Paden for induction," Sechrist said. "Her long and distinguished service as the chief student officer at OCCC and in the state of Oklahoma certainly makes her worthy.
"But if you couple her service at OCCC with her community involvement and leadership, Dr. Paden has more than earned this very prestigious recognition."
Paden has held various positions at OCCC, including the Dean of Students and Student Relations Director. She was the first to hold each position.
"I never inherited a file cabinet or an operations manual for the office," Paden said.
Over the years, Paden has done a little bit of everything on campus from recruiting people in the community to helping design the College Union.
"I did everything from the entertainment at the Arts Festival to recruitment programs, lugging the information materials and going to the high schools, and going to Crossroads Mall, speaking on behalf of the institution — just really trying to build the reputation of the college, because we were new.
"People didn't know us and so I've done a lot of outreach in the community," she said.
Paden said she was dedicated to helping people become more comfortable on campus in an effort to have more adult students enroll.
She went the extra mile many times, staying on campus for extended hours, chaperoning dances and events. Although it was crazy, she said, making a difference in students' lives makes it all worthwhile.
As the Enrollment and Student Services Vice President, Paden said she is responsible for communicating with the students and making campus a better place for them.
"I am, by title, the official student advocate, the spokesman for students. That's what I have to remind people — that we're here for the students," she said.
Paden said she wasn't exposed to many successful women growing up and assumed women could only be teachers, secretaries or nurses.
So, she decided to be a teacher, but after working with younger children, she decided that wasn't for her.
She switched her major and earned a bachelor's degree in psychology from Oklahoma State University and a master's degree in student personnel services with a minor in counseling.
She said the lack of help and advice during her college transition gave her the desire to help students.
"I went to college to work at a college, because when I went to college as a freshman, I had a horrible, horrible, horrible freshman year experience," she said. "Everything was wrong from probably the fit of the school I attended … ."
"Fit" is very important to the life of a college student and even to an employee, she said.
Paden said she believes it's her job to give back to people every day. She believes in the Biblical expression, "To whom much is given, much is required."
"I really do believe that you are given certain gifts in your life and it is your responsibility to use them wisely and generously," she said.
When Paden found out she would be inducted into the Women's Hall of Fame, she said she was surprised because she looks up to many of the women who have been inducted or will be inducted and considers it an honor.
"I knew I had been nominated and they called me and said 'congratulations,' and I was really kind of surprised," she said. "I had done some research on the website … and I looked at the previous inductees — many of them are women that I have heard of, that I have known, who I have admired, and I thought to be able to stand with them or be in the same category as them was very rewarding, very validating."
In addition to holding positions at OCCC, Paden also is the longest serving adviser to Sechrist, serves on the Oklahoma City Rotary Club, the Rotary Club International, Leadership Oklahoma City, the Oklahoma Sports Association and more.
She has served in leadership in the community at Christmas Connection, the Red Cross and Arts Festival Oklahoma, and has helped with teen pregnancy and breast cancer awareness. She also has done international work in India.
For more information about the Oklahoma Women's Hall of Fame, visit www.ok.gov/ocsw/Oklahoma_Women's_Hall_of_Fame.
To contact Lauren Daniel, email onlineeditor@occc.edu